18 Dec 2023 | Dr. Gilles Aubry | Sawt, Bodies, Species – Listening through others in Morocco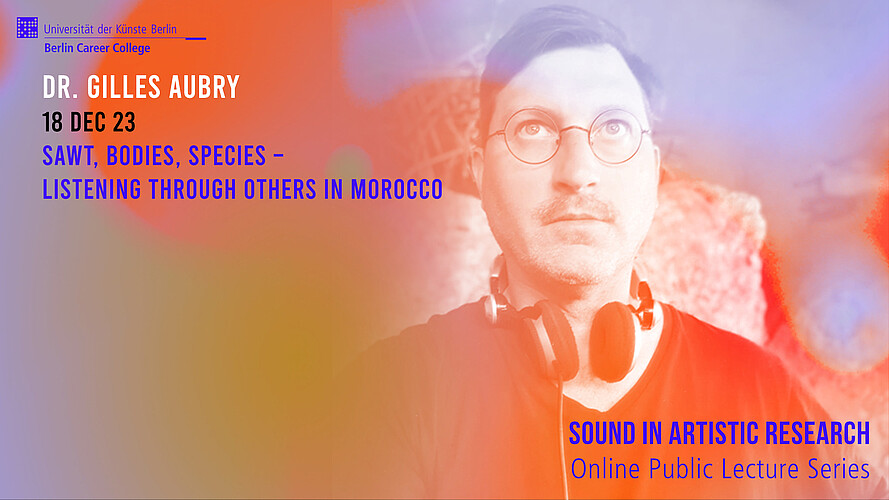 Following the publication of his book "Sawt, Bodies, Species" (Adocs 2023), Gilles Aubry presents findings from his doctoral research on sound and aurality in Morocco. Engaging with artists, musicians, and scientists, Aubry's more-than-sonic approach encompasses a wide range of practices, including music archives, seismology, Sufi healing, industrial extractivism, and ecological voices. The presentation emphasizes **/collaboration/**as a comprehensive methodology for the co-production and mediation of knowledge in both anthropological and artistic research. This involves observations, conversations, experiments, and performative interventions conducted with local people and communities. Listening takes a central role in these exchanges, with a focus on the potential for social, political, and ecological change.

Dr. Gilles Aubry operates between of sound and visual arts, experimental music, and academic research. His creations include installations, films, performances, and radio pieces, delving into sonic materiality, technology, and ecology. Aubry's works have been showcased at numerous international art institutions, music venues, festivals, and conferences, including Sonic Acts Amsterdam (2010), Ultraschall Festival Berlin (2015), documenta 14 in Kassel (2017), HKW Berlin (2018), Reina Sofia Museum in Madrid (2020), and Taiwan International Documentary Festival (2021). He holds a PhD in social anthropology and teaches sound art at UDK and HMKW Berlin. Published by Adocs Press in 2023, Aubry's book "Sawt, Bodies, Species" offers an in-depth account of sound and aurality in Morocco.