5 FEB 2024 | Dr. Bernhard Rietbrock | Alvin Lucier's Reflexive Experimental Aesthetics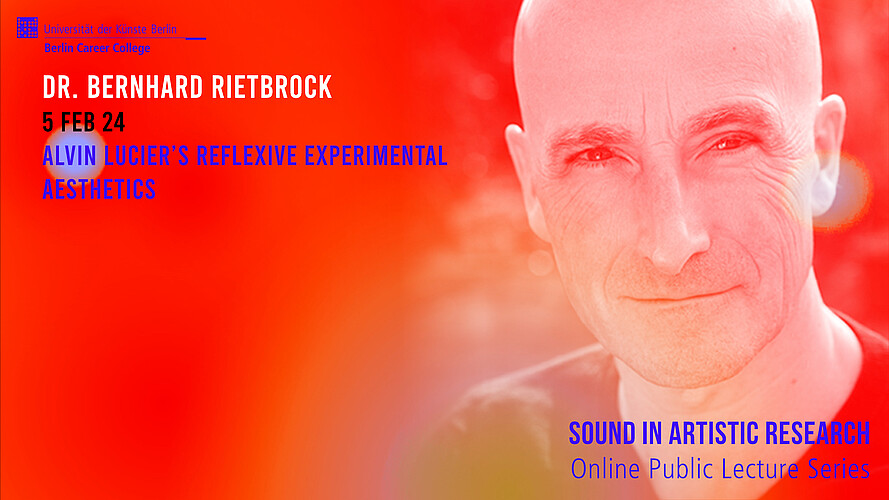 Making audible what is usually inaudible, rendering sound visible in an unusual way, and facilitating a spatial experience of sound—this is what constitutes the pioneering work that makes Alvin Lucier one of the most important representatives of American music in the second half of the twentieth century. In contrast to the European school which held sway during his studies in composition throughout the fifties, Lucier's experimental compositions, from the beginning of his live electronic period in 1965 until around 1982, consisted almost exclusively of verbal scores. These were not to be understood in the traditional sense, as the codification of preconceived musical ideas, but rather as focused experimental setups that would reveal acoustic as well as acoustically generated phenomena. Usually based on scientific experiments, these works of the sixties and seventies investigate primarily the auditory quality of natural and architectural spaces, the physical characteristics of sound, and the visualization of such sound events. One of the distinguishing features of Lucier's artistic research is his interest in accessing and understanding scientific measuring instruments, experiments and research methods not designed for musical purposes. By using them in new ways, performing with them in different ways, or even making a minimal difference in perspective, Lucier transposes these techniques into the realm of music.
Dr. Bernhard Rietbrock studied Sound Studies at the University of the Arts in Berlin, where he also received his PhD at the Faculty of Music on the topic of Alvin Lucier's Reflexive Experimental Aesthetics. He has been a research associate at the Zurich University of the Arts since 2014, where he leaded from 2019 until 2022 the Swiss side of the DACH research project Hearing the Other - On the Aesthetic of the Real in Experimental Music and Sound Art at the Institute for Music Research. In 2016, he founded the Ever Present Orchestra at the ZHdK as part of the research project Reflexive Experimental Aesthetics after Alvin Lucier, with which he has since given concerts worldwide as artistic director together with Alvin Lucier.