German-Chinese Youth Days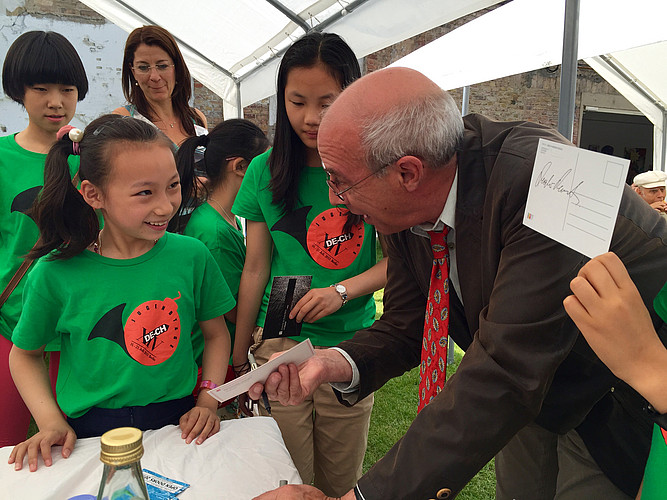 Art and Culture promote understanding and friendship between the people of China and Germany
Since 2013, Prof. Martin Rennert has served as patron for the German-Chinese Youth Days. The annual event, which takes place in Berlin, promotes mutual understanding between German and Chinese youth through music and painting, and builds friendships across national borders.
"Few of the world's universities of the arts can compete with the Berlin University of the Arts (UdK Berlin) when it comes to size, diversity, and wealth of tradition. The courses on offer cover the entire spectrum of the arts and art-related sciences. Through a multilayered web of ties to national and international institutions, the UdK Berlin is exceptionally well connected and maintains a large network of international partner universities. And just like its hometown, Berlin, the UdK Berlin itself is multicultural and international. More than 800 foreign students are enrolled at the university today – many of them from China.
We at UdK Berlin recognize our responsibility here, and to meet it we draw on our specific strengths: the breadth of our artistic disciplines on the one hand, and the cultural and social diversity of our students and teachers on the other. We maintain diversity in dialog: For example, during the past three semesters, the UdK Berlin, together with our Chinese partners, presented a widely acclaimed series on contemporary art in China titled Das Bild hinter dem Bild, the image behind the image. Also, since the summer of 2006, UdK Berlin has offered a postgraduate Master's degree programme in fine art and design at the China Academy of Art in Hangzhou.
Thus, I am especially pleased to be patron of the German-Chinese Youth Days this year for the third time. Here, the foundations are set for expanding the understanding and friendship between the people of Germany and China and for awakening curiosity about each other's culture. The creativity which is an integral part of art, and art's nonverbal expressions, are especially well suited to building these bridges."
Prof. Martin Rennert, President of the Berlin University of the Arts
On the occasion of the 14th German-Chinese Youth Days in Berlin, May 17, 2015