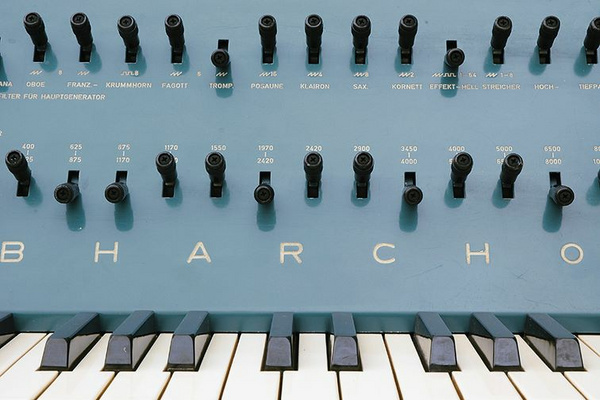 Foto: Uwe Walter
Invitation: EM4 (13) | Concert and talk | July 11, 2018
Dear friends of Sound Studies and Sonic Arts,
we cordially invite you to the thirteenth event of the EM4 series on July 11, 2018.
EM4 (13) | Das Subharchord
11 July 2018 | 8 p.m.
Concert with works by Tomomi Adachi, Mark Barden, Susann Maria Hempel and Academy member Frederic Rzewski
Followed by a talk with Nathan Plante, Frederic Rzewski and Gerhard Steinke
Presentation: Gregorio García Karman
In German

Lauded as futuristic sound machine and synthesizer of socialism, the Subharchord is a musical instrument that integrates subharmonic sounds into the sound production process. Sound poet Tomomi Adachi, composer Mark Barden and experimental filmmaker Susann Maria Hempel introduce their own works at this evening performance, featuring the Subharchord. Frederic Rzewski's Zoologischer Garten, a tape composition that the former guest of the Ford Foundation composed in East Berlin in the 1960s, serves as musical counterplay.
Akademie der Künste
Hanseatenweg 10, Studiofoyer
10557 Berlin
Tickets: 6/8 Euro
www.adk.de
Tel.: (030) 200 57-1000
E-Mail: ticket@adk.de

Program

- Part 1 -
Mark Barden (*1980)
Study for Subharchord and Soloist, UA
für Trompete und 4-Kanal Tonband
(Nathan Plante, Trompete)

Frederic Rzewski (*1938)
Zoologischer Garten, 1965
Tonbandkomposition (restaurierte Fassung)
- Conversation -
Talk with Nathan Plante, Frederic Rzewski and Gerhard Steinke
Presentation: Gregorio García Karman

- Part 2 -
Tomomi Adachi (*1972)
The Love for Forty-six Oranges, UA
für Subharchord-Prototyp mit 4-Kanal Live-Elektronik und Stimme

Susann Maria Hempel (*1983)
Neues Werk, UA
Hörspiel-Performance

After the event you all visitors are invited to talk to the artists.
The event series EM4 is a cooperation of the Studios für Elektroakustische Musik der Akademie der Künste, Berlin, with the Elektronischen Studio der Technische Universität Berlin, the Studio für Elektroakustische Musik der Hochschule für Musik Hanns Eisler Berlin (STEAM) and the UNI.K | Studio für Klangkunst und Klangforschung as well as the Master's program Sound Studies and Sonic Arts - UdK Berlin of the Berlin University of the Arts.
More Information here https://www.adk.de/de/akademie/e-studio/.
We are looking forward to see you.
best wishes,
Prof. Volker Straebel
head of department