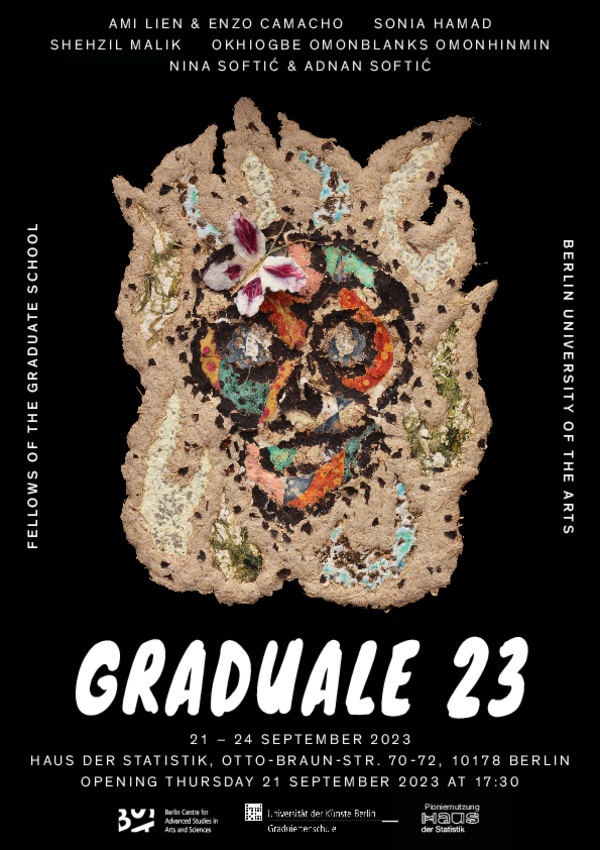 Foto: Max Liebstein, Artwork: Ami Lien & Enzo Camacho
Graduale 23
21 - 24 September 2023
Haus der Statistik (OTTO-HANGER)
Otto-Braun-Straße 70-72
10178 Berlin
Final Exhibition of the UdK Graduate School Fellowship 2021-23
Opening on 21 September, 5:30pm with artist talks
https://www.udk-berlin.de/forschung/graduiertenschule/aktuelles-archiv/graduale-23/
Dear readers of our newsletter, dear friends of the Graduate School,
the 2021-23 fellowship term is coming to an end and we would like to invite you to the closing event of the Graduate School programme at Haus der Statistik. Here, fellows Enzo Camacho & Ami Lien, Sonia Hamad, Shehzil Malik, Okhiogbe Omonblanks Omonhinmin and Adnan Softić & Nina Softić will present their artistic positions. At the opening on 21 September at 5:30pm, the exhibition will be accompanied by artist talks, drinks and snacks.
What is the Graduiertenschule really? How to pin down the purposes it serves, the constituencies it caters to? Some refer to it as an academic experiment in disguise, or a Twilight Zone, or a Trojan Horse for extravagant aims in the faraway future. What we do know is that every two years, the postgraduate program of the Berlin University of the Arts marks the end of a fellowship cycle with an exhibition.
So could this event offer some answers to the above questions? In fact, a group show is always a complex process. It would be unfair, not to say unrealistic, to expect it to address the mysteries not even a Fellow or a Gastprofessor can clarify. But what a show of this kind can do is assemble five distinct artistic positions, five ways to commemorate a two-year process. However distinct these practices may be, our event will offer a prism through which to see them both individually and in dialogue with one another.
Please join us in raising a glass to the Fellows 2021-23 – and to those who will follow shortly in their footsteps.
Okhiogbe Omonblanks Omonhinmin, in(to) grief, 2023
red clay-sand, cooking station, glass jars, prints, tables, headphones, media player
In the words of the artist, this piece offers an "exploration of death, life, and the grieving process. It intimately reflects on a personal journey by tracing my matrilineal DNA lineage, connecting my grandmother, Theresa Otibho Okhiogbe Oboh, my mother, Victoria Elomese Omonhinmin, and myself. Moving beyond societal norms that often stigmatize death, this project invites us to embrace death as a natural occurrence, deserving of love and acceptance. It challenges our forced socialization by presenting death as an inherent part of life's cycle." On the opening night, Omonblanks will also look back on the UdK Fellowship in conversation with Guest Professor Tirdad Zolghadr.
Adnan & Nina Softić, KLIMATON ARCTIC≈2020, 2023
generative sound object with eight loudspeakers
In collaboration with scientists, technicians, and composer Thies Mynther, Adnan & Nina Softić have developed a hybrid between a sonification device and a musical instrument that emits data from the Arctic as sound. The resulting Sonified Portrait of a Disappearing Landscape allows for an unusual approach to data specifically assembled by the 2020 Arctic expedition MOSAiC – the largest example of data collection within a single region, and perhaps the last inventory of a disappearing witness to climate change. As the duo points out, "data archives are hardly a solution as long as their contents are not given a socially accepted meaning" – by means of contemporary art or otherwise.
Sonia Hamad, Kurdish Spring, Romelan, Rojava - Northern Syria, 2015
archival pigment print on Hahnemühle Photo Rag and Alu-Dibond, 120 x 150 cm
Sonia Hamad's contribution is eerily topical. The stackable Monobloc chairs in her photograph are of a familiar, not to say universal design, and they're seven in number, grouped in quiet expectation of seven absent individuals who are about to convene – or who convened only recently. The scene is nestled within a lush and leafy panorama but set against a backdrop that is still under construction. Too casual for a seminar, too stiff for a picnic. The suggestive state of suspension is further underlined, and gently rendered tangible, by a number of Monobloc chairs distributed throughout the exhibition premises.
Shehzil Malik, A Woman Online: Can the Internet be Feminist?, 2021-ongoing
monitor with headphones, 2.4 m x 3.35m prints, cutouts
Shehzil Malik's contribution is the latest iteration of her long-term inquiry into how women and gender minorities navigate patriarchal structures in digital spaces. Malik focuses on Pakistan, where the Internet represents a complex ideological ecosystem that acts as both a site of oppression and a decentralized means to resistance. Malik has long engaged with key feminist stakeholders to understand how oppression is experienced, resisted and remembered. Here, the audience is invited to engage with written testimony, photos, music, poems, artifacts and cues from the visual language of Pakistani street posters, both within the exhibition and on the street outside.
The fellowship research of Enzo Camacho & Ami Lien has focused on the plantation island of Negros (Phillipines); in particular on one of the darkest moments of the Marcos regime – the 1985 Escalante Massacre. Given that our vernissage, Sep. 21, coincides with the anniversary of Marcos' 1972 declaration of martial law, Camacho & Lien have invited Berlin-based collectives ALPAS Pilipinas and Gabriela Germany to stage a commemorative event. This in the name of collective historical memory, but also to address continuities between a historical period and the current moment: plantation violence in Negros has further intensified as Marcos' son Bongbong regained the Philippine presidency.