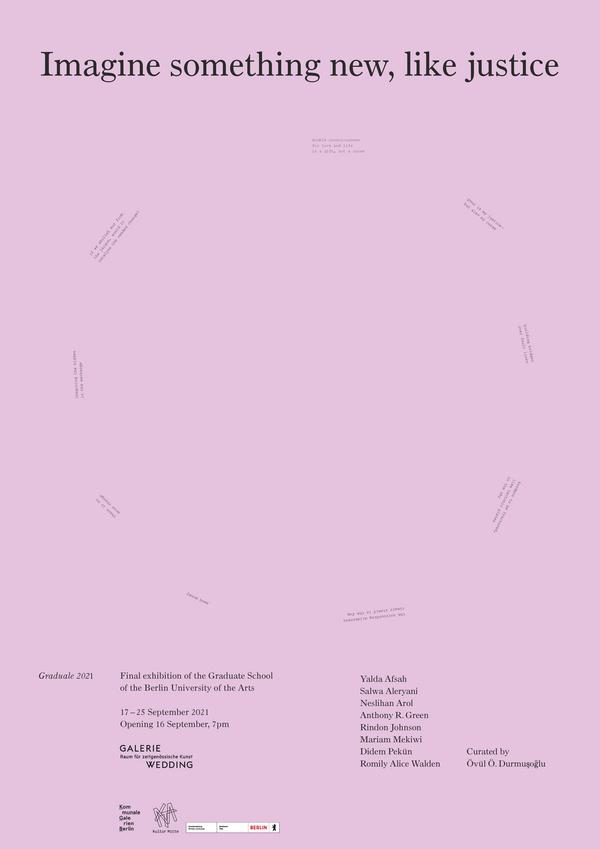 Foto: Santiago da Silva
Graduale 21: Imagine Something New, Like Justice
17 September - 25 September 2021
Exhibition opening: 16 September 2021
Galerie Wedding
Müllerstraße 146/147
13353 Berlin
Opening hours: Tuesday to Saturday, 12 - 7pm
für die deutsche Version bitte hier klicken
Exhibition programme, schedule as well as information on the art works and artists:
Dear readers of our newsletter, dear friends of the Graduate School,
we would like to invite you to the upcoming Graduale, the final exhibition of our fellows at Galerie Wedding. The transdisciplinary research projects address global crises, the transformation of normality and coexistence, as well as our ongoing search for justice. The exhibition will be accompanied by an extended book launch, performances and a film screening outdoors.
Artists: Yalda Afsah, Salwa Aleryani, Neslihan Arol, Anthony R. Green, Rindon Johnson, Mariam Mekiwi, Didem Pekün and R A Walden, curated by Övül Ö. Durmuşoğlu
Imagine Something New, Like Justice, the second iteration of the collective gesture by the fellows of the Graduate School of the Berlin University of the Arts 2019-21, takes place in the form of an exhibition at Galerie Wedding following a publication with the same title by Archive Books. As various calls for justice and visibility spread from different parts of the world simultaneously today, they challenge the codes of power, authority and sovereignty fortified by post-truth's slippery regimen. They also question public spheres, which erase certain voices by the way they are constructed. You do not need to be fixed, they claim, it is the world that needs fixing. What constitutes that justice we keep looking for as a reciprocal horizon, as life-long pedagogy, as a struggle, as an imagination, as a desire? That is the core question that encircles and passes through the particular final moment of the transdisciplinary research projects by Yalda Afsah, Salwa Aleryani, Neslihan Arol, Anthony R. Green, Rindon Johnson, Mariam Mekiwi, Didem Pekün and R A Walden. The artists coexist in the Galerie Wedding situated in one of the most central and plurivocal squares of Wedding, that is itself partially taken over by the Sozialamt and has become an extraordinary example of cohabitation in reflection of the times. Spreading their works in the exhibition space and around the square, the artists attempt to stand side-by-side, to consult with each other, to de-border inside from outside and to breathe in each other's freedoms. The short and intense one-week encounter – the presence of which is a sign of the attachment to life in these times of loss and longing – will be accompanied by an expanded book launch outdoors with music, talks and screenings on 16th and 18th September.
Curated by Övül Ö. Durmuşoğlu (curator and writer, visiting professor of the Graduate School)
Foto: Mariam Mekiwi
Exhibition opening: 16 September, 7-10pm
8pm: Performance vehicle – postlude by Anthony R. Green
In the words of the composer: "Throughout my time at UdK, I had the honor and pleasure of meeting incredible artists who have changed my life in so many ways. This particular piece was composed with R A Walden in mind, and their practice that includes bringing justice to sick and disabled communities."
8:15pm: Extended book launch with Archive Books
Imagine something new, like justice is a publication project realised by the 2019-2021 fellows of the Graduate School in cooperation with Archive Books, edited by Övül Ö. Durmuşoğlu & Graduate School and designed by Santiago da Silva. The publication is an investigation of transdisciplinarity in collective methodology where artist fellows, publisher, designer, editor and coordinator took steps further their designated labor division roles.
Programme evening: 18 September, 12-10pm
6:30pm: Performance Smaller Big Things by Anthony R. Green & guest artists Lena Czerniawska and Emilio Gordoa
Within the canopy of categorizations, where does performance justice live? Through movement, sound, text, spontaneity, interaction, and improvisation, Smaller Big Things is a visceral, physical performance poem. It is a challenge to envision the forced compromise between historical performance practice, pandemic-necessary protocols in contemporary presentations, and future desires. It is simultaneously an invitation for audiences to question their relationship to performance, presentation, and improvisation, on multiple levels.
7:15-9:30pm: Graduale Kino with films by Yalda Afsah, Rindon Johnson, Mariam Mekiwi, Didem Pekün and R A Walden
Didem Pekün: Tülay German - Years of Fire and Cinders (2010)
Tülay German: Years of Fire and Cinders focuses on the legacy of influential singer Tülay German from Turkey in a time of social unrest in which her music became a launch pad of political activism. A vigorous and committed woman, German defied family and social expectations with her professional, political, and personal choices. Didem Pekün presents a fırst-person account of the artist as she explores the connections between art, politics, and identity - with urgent and valid questions, given the contemporary context.
Mariam Mekiwi: 'abl ma 'ansa / Before I Forget (2018)
A science-fiction story set in an indistinct coastal region, between land and sea, above and below water. El Captain disappears, one of his disciples takes a journey in the ocean to cut off the internet cable, the water level is rising, an amphibian woman appears at the shore looking for her mother, and the memories of two women in a ward intertwine. Scientist Dr. Sharaf is trying to congregate all of them – the members of the secret society of amphibians – in an attempt to save the world.
R A Walden: Notes From The Underlands (2019)
Notes From The Underlands is a performative text from the depths of queer disability culture. It is both a future-orientated vision of a sick, disabled and care-giving Utopia, and an urgent call to action in the now. The text is performed through video, audio, large-scale print and subtitles; challenging the notion that the body must be physically present (and abled) in order to perform.
Yalda Afsah: BOY (2015)
Farahnaz is 13 years old and was raised as a "Bacha Posh" in Mazar-e-Sharif, Afghanistan. According to this cultural practice, kids considered as girls are dressed as boys from their birth or a young age, and raised in this social "function". Farahnaz consciously lives with the freedoms and duties of a boy in a society dominated by patriarchal traditions – from playing football to doing the groceries for the sister who is a single parent. The documentary film BOY tells Farahnaz' story and parallely follows a 24-year-old Afghan in London who looks back on her childhood, similarly determined by this tradition. A film by Yalda Afsah and Ginan Seidl
Rindon Johnson: So weird how heaven and hell look so similar (2021)
In this video I've made a long look at Virtual Reality job and prison simulators. Confusingly in virtual reality, to simulate labor suddenly becomes play. Time is manipulated the best working hours are heightened, gameified, the flow state is achieved, and the player is left wanting more. These simulations can be played for hours, one can get lost inside of them, their returns, shakey at best.
Salwa Aleryani's work Raising minimum defenses (prelude) (2021) is installed at Rathausvorplatz on both days of the public program.
On an image of bricks lining up, a piece of marble is placed on top and then rephotographed. Rather than a "where and when," the work draws from traces of belief in determined future dates and their editability across landscapes and communities, mainly in relationship to building. Perhaps my intrigue stems from a voice lurking in the background, "who knows what could happen between now and then – inshallah" or a fear of an imagined future — to which we raise our defenses.
Raising minimum defenses is an open air (prelude) to an upcoming work of the same title (CITIZEN).
Didem Pekün continues her campaign Free Osman Kavala (2018-ongoing) at Rathausvorplatz in the frame of the public program.
Free Osman Kavala is an extended visual-political campaign led by filmmaker, scholar and activist artist Didem Pekün. Founder of Anadolu Kültür Foundation, Osman Kavala is a philanthropist, arts and culture patron, and business person who has been federally imprisoned in Turkey for nearly four years - on the basis of unproven allegations regarding critique of the current regime. This campaign has been shown in different contemporary art institutions around Europe and continues to call attention to the responsibility that artists and cultural institutions have in exercising their own freedoms of expression.
On 22, 24, 25 and 26 September 2021, 8 pm, the play Karagörlz: Leaving Earth But Holding On to Humanity by Neslihan Arol takes place at the Theater im Aufbau Haus Kreuzberg as part of the exhibition and its public program.
Karagörlz: Leaving Earth But Holding On to Humanity imagines a comic tradition and explores the question of whether we are beyond the era of traditions. What would a tradition that emerges today look like and what would it reveal about our time 600 years from now? This evening in the year 2621, 50 representatives of humanity are invited one last time to Earth to cast their vote on these issues. Our PRESENT-I-I-I, developed especially for this occasion, will guide them through the evening.