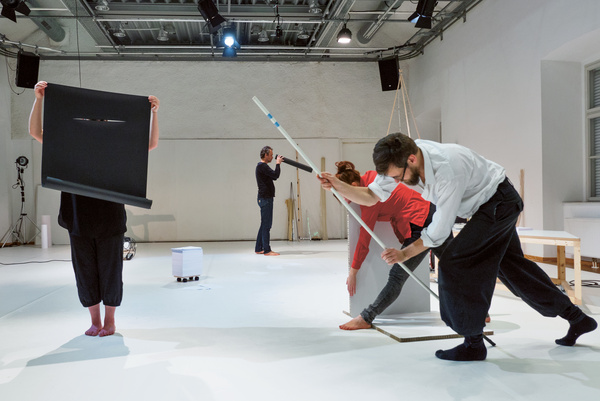 Foto: Choreo-graphic Figures
für deutsche Fassung bitte hier klicken
Dear Ladies and Gentlemen, dear friends,
This newsletter starts off with information on the EU General Data Protection Regulation.
We warmly invite you to the next Salons für Ästhetische Experimente. This weekend the special edition "Choreo-graphic Figures: Deviations from the Line" takes place. In July, our fellows will welcome you at the salon "What Art can do when the Powers that Be Block change" at Haus der Kulturen der Welt in Berlin. Unfortunately, the salon by our current fellow Darsha Hewitt titled "Deconstructing a Socialist Lawnmower" has been cancelled. However, another opportunity to see part of her work is the group exhibition "Requiem for a Failed State" at the Center for Contemporary Art in Leipzig which is still open until August 2018.
We are currently looking for a student employee to support the BAS and Graduate School office, so please spread the news!
Furthermore, we are happy to announce that our fellows Kerstin Ergenzinger, Kiran Kumar and Bnaya Halperin-Kaddari will give the workshop "Moving Sound Aligned" in the framework of Studium Generale at UdK Berlin in July 2018. Last but not least, we share some news from our alumni.