Attracting student teachers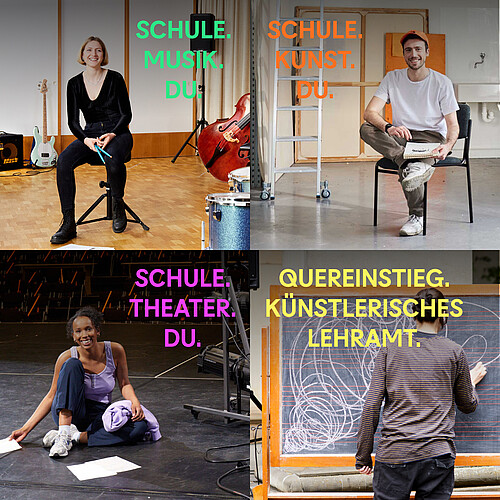 The Teaching Programmes play a central role in the canon of artistic and artistic-scientific programmes offered at the Berlin University of the Arts. The university's interdisciplinary approach is also reflected in the integration of the teacher training program into artistic subjects. At the Berlin University of the Arts, the artistic subjects of art, music, and theater pedagogy can be studied for a teaching degree. An extensive range of courses enables prospective teachers to engage intensively with their own subjects and with other artistic disciplines during their studies.
The education of student teachers pursues two equally fundamental goals: teaching the students as artists on the one hand and preparing for the later professional reality on the other hand. For this reason, cooperation with schools and other educational institutions is also essential for the Berlin University of the Arts.
The new campaign for the artistic teaching profession started on 30 November 2022.
Prospective students can gain an insight into the teacher training programmes at the Berlin University of the Arts on thefollowing websites:
Fine Arts Teaching Programme
Music Teaching Programme
Theatre/Performing Arts Teaching Programme
Fine Arts or Music Q-Master Teaching Programme