18.06.2017 | A dialog on Artistic Research in Architecture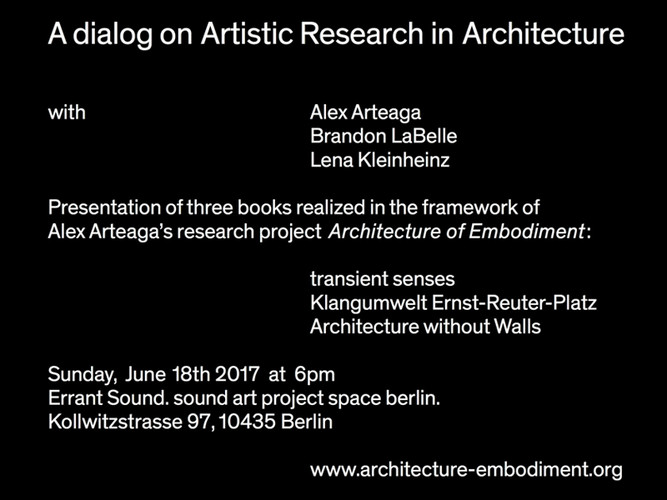 A book presentation by Dr. Alex Arteaga of the first three books realized in the framework of his aesthetic research project Architecture of Embodiment (www.architecture-embodiment.org) this Sunday, June 18th, at Errant Sound Berlin. On the basis of the publications transient senses, Klangumwelt Ernst-Reuter-Platz and Architecture without Walls there will be a dialogue on artistic research and architecture with Alex Arteaga, Lena Kleinheinz and Brandon LaBelle.
Book presentation and dialogue: A dialog on Artistic Research in Architecture
Time: Sunday, 18 June 2017, 6 pm
Location: Errant Sound, Kollwitzstrasse 97, 10435 Berlin
Facebook Event: A dialog on Artistic Research in Architecture
The event will be in English
Admission is free
Architecture of Embodiment is a research environment in which architecture is addressed from an enactivist perspective. The term architecture is understood here as the built environment in its most basic terms: structure, form, and materiality. The main questions of this research environment refer directly to one of the core enactivist theses—"living is sense-making" (Varela, 1991): Can architecture be understood as a condition of the emergence of sense? If so, how does architecture condition the emergence of sense? The realization of this research environment is thought of as mapping a territory—the architecture of embodiment—that is not given but emerges out of the acts of mapping it.

Architecture of Embodiment is funded by the Einstein Foundation and hosted by the Zentralinstitut für Weiterbildung and the Institut für Geschichte und Theorie der Gestaltung at the Berlin University of the Arts.