Dr. Rahma Khazam & Prof. Dr. Judith Siegmund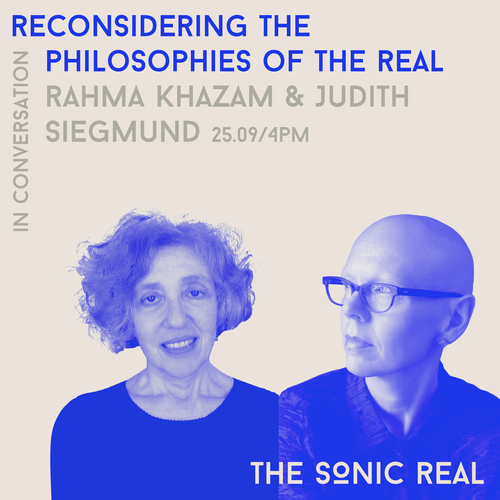 25 SEP 2021
4PM
Prof. Dr. Judith Siegmund and Dr. Rahma Khazam in conversation, moderated by Prof. Dr. Sabine Sanio
Reconsidering the Philosophies of the Real.
Works of sonic art frequently use technology to bring to our attention sounds that lie beyond human perception. There are good arguments for seeing in this trend an engagement with contemporary philosophical debates on the real. Drawing on examples of artworks that seek to engage with the non-human dimensions of sound, this talk will explore and critically examine the ways in which speculative realist philosophies approach the aesthetics of the real.
Dr. Rahma Khazam
Dr. Rahma Khazam is a researcher in contemporary aesthetics affiliated to Institut ACTE, Sorbonne Paris 1. She studied philosophy and art history and received her Ph.D from the Sorbonne in aesthetics and art theory. Her research ranges from modernism and image theory to speculative realism and new materialism and has been published in edited volumes, academic journals and exhibition catalogues. Recent publications include "Art, Science and the Mutant Object" in Post-Specimen Encounters Between Art, Science and Curating, 2020 and "Son et Image: Face au Réel" in L'écho du Réel, 2021.
Prof. Dr. Judith Siegmund
Since the early 1990s, Prof. Dr. Judith Siegmund has come to the public's attention particularly in the field of participatory conceptual art with video works as well as multimedia installations and documentary books. Characteristic of her working method is the attempt to capture the everyday discourses of various participants, and to reflect them - aesthetically transformed but unfiltered in terms of content - back into the public space.
Siegmund's background is in philosophy and the fine arts, and she was Junior Professor for Theory of Design / Aesthetic Theory and Gender Theory at the Berlin University of the Arts from 2011 to 2018. There she founded the three-year research project "Autonomy and Functionalization - An Aesthetic-Cultural-Historical Analysis of Art Terms in the Visual Arts in Berlin from the 1990s to Today". Prof. Dr. Judith Siegmund has been Professor of Philosophical Aesthetics at the Zurich University of the Arts since March 2021.
Prof. Dr. Sabine Sanio
Prof. Dr. Sabine Sanio, head of the department "Theorie und Geschichte auditiver Kultur" (theory and history of auditive culture) at the Master's program Sound Studies, Universität der Künste Berlin; studied german literature and philosophy; numerous articles about actual aesthetics, media aesthetics and media history, Sonic Arts, New and Experimental Music and about the relationship between the arts.