Prof. Dr. Christoph Cox und Prof. Dr. Markus Rautzenberg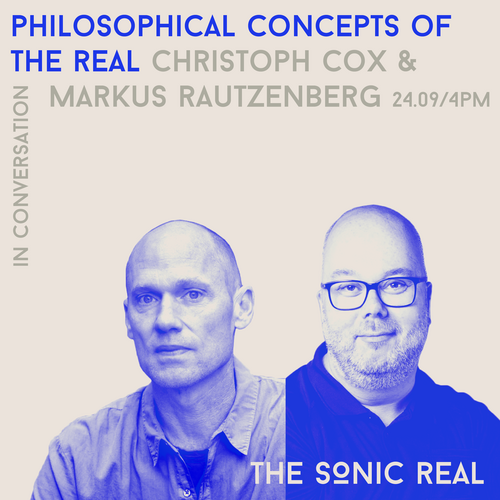 24 SEP 2021
4PM
Prof. Dr. Christoph Cox und Prof. Dr. Markus Rautzenberg in conversation, moderated by Dr. des. Bernhard Rietbrock
Philosophical Concepts of the Real
This talk will focus on philosophical concepts of the real. The starting point traces back to Lacan's description of the psychological system by means of the Real, the Symbolic, and the Imaginary. Whereas in the arts symbolization and imagination stand for the position of production aesthetics, the Real that according to Lacan eludes symbolization as well as imagination refers mainly to aesthetic experience. According to the theory, the various currents in the arts are distinguished by the Real, with which they set out to come to terms and which is discussed in aesthetic theory as the unutterable which cannot be said, or as the previously inaudible, which, of course, is of particular importance for the sonic real at hand. One of the essential aspects of the discussion between Christoph Cox and Markus Rautzenberg will be the attempt to illuminate the consequences that follow from different interpretations of the real which ultimately lead to different aesthetic conclusions.
Prof. Dr. Christoph Cox
Prof. Dr. Christoph Cox teaches and writes on contemporary European philosophy, cultural theory, and aesthetics. He is the author of Sonic Flux: Sound, Art, and Metaphysics (University of Chicago Press, 2018) and Nietzsche: Naturalism and Interpretation (University of California Press, 1999), and co-editor of Realism Materialism Art (Sternberg, 2015) and Audio Culture: Readings in Modern Music (Continuum, 2004/2017). The recipient of an Arts Writers Grant from Creative Capital/Warhol Foundation, Cox is editor-at-large at Cabinet magazine. Christoph Cox is currently vice president for Academic Affairs and dean of faculty and professor of philosophy at Hampshire College.
Prof. Dr. Markus Rautzenber
Prof. Dr. Markus Rautzenberg is a philosopher and media theoretician. His chief areas of research are media theory, theory of images, aesthetics and epistemology. From 2011 to 2014, he headed the DFG-project "Evokation. Zur non-visuellen Macht der Bilder (Evocation. On the non-visual power of images)" at Freie Universität Berlin and has published Markus Rautzenberg: Bild und Spiel. Medien der Ungewissheit, Paderborn 2020; Ungründe. Perspektiven prekärer Fundierung with Juliane Schiffers in 2016 and Trial and Error. Szenarien medialen Handelns with Andreas Wolfsteiner in 2014. Since 2016, he has been Professor of Philosophy at the Folkwang University of the Arts in Essen.
Dr. des. Bernhard Rietbrock
Dr. des. Bernhard Rietbrock studied Sound Studies at the University of the Arts in Berlin, where he also received his PhD at the Faculty of Music on the topic of Alvin Lucier's Reflexive Experimental Aesthetics. He has been a research associate at the Zurich University of the Arts since 2014, where he currently leads the Swiss side of the DACH research project Hearing the Other - On the Aesthetic of the Real in Experimental Music and Sound Art at the Institute for Music Research. In 2016, he founded the Ever Present Orchestra at the ZHdK as part of the research project Reflexive Experimental Aesthetics after Alvin Lucier, with which he has since given concerts worldwide as artistic director together with Alvin Lucier.