die Reihe: David Behrman and Nicolas Collins, with Matana Roberts | performances and talk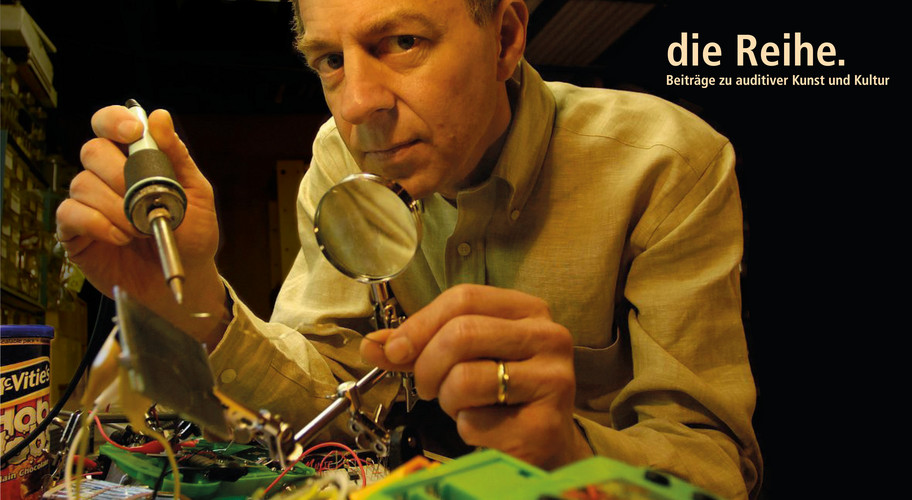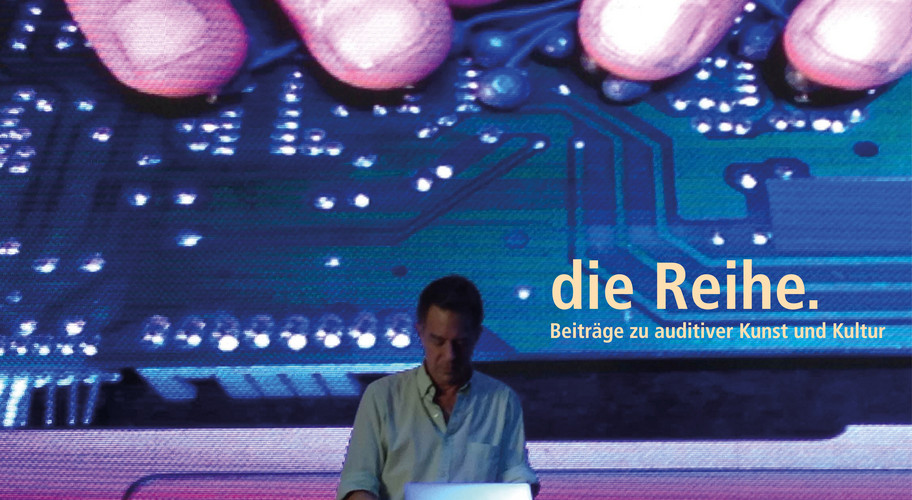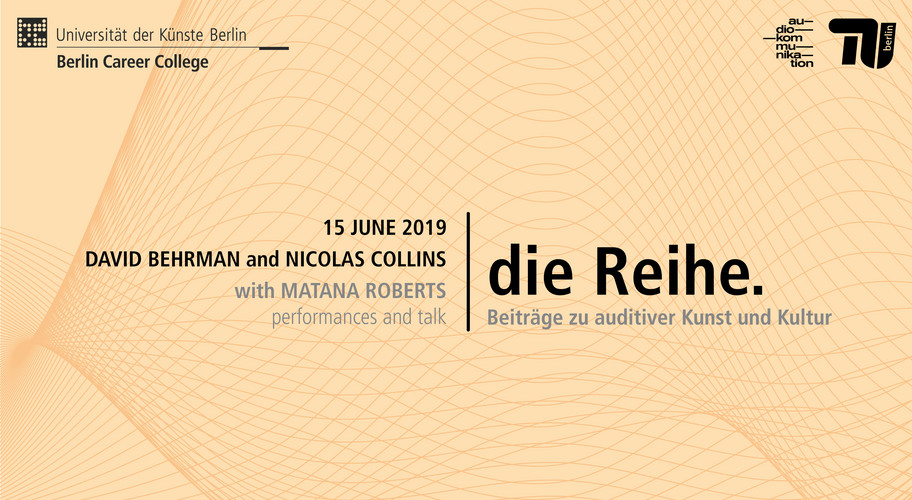 die Reihe. Beiträge zu auditiver Kunst und Kultur
Die Reihe. Beiträge zu auditiver Kunst und Kultur presents the american composers David Behrman und Nicolas Collins, with Matana Roberts. The artists will play four works for electronics/ and brass.
die Reihe: David Behrman and Nicolas Collins, with Matana Roberts
Perfomances und Conversation
15 June 2019 | 20.00 Uhr
km28
Karl-Marx-Straße 28
12043 Berlin

Entrance is free as always.
​​​​​​​This event is supported by the Berliner Künstlerprogramm des DAAD.
David Behrman
U E 2 (2019) (10')
ViewFinder (1972, revised 2016) (12')
both pieces performed by Matana Roberts and David Behrmann
--
Nicolas Collins
The Royal Touch(2014) (12') Solo electronics
Still Lives(1993/2016) (10') Matana Roberts, saxophone
--
The artists in conversation.
U E 2 revisits features from Unforeseen Events, a piece from the late 1980s that linked performance by brass or wind players to interactive software. The original music was developed in collaboration with Ben Neill and Rhys Chatham and was recorded for Phill Niblock's XI record label. The new version is currently under construction.
ViewFinder grew out of Pools of Phase Locked Loops, a work for home-made analog synthesizers that was part of a commission to the Sonic Arts Union members (Robert Ashley, Alvin Lucier, Gordon Mumma and Behrman) from Hans Otte at Radio Bremen in the early 1970s. In its current form it can be realized by one or two players of acoustic instruments and one who operates software on a laptop.
The Royal Touch reanimates deceased and discarded electronic circuitry (cell phones, computer motherboards, etc.). Fishing weights make nudgeable contacts between a simple circuit of my design and the electronic corpse. Feedback between the live and the dead produces complex oscillations that change in response to the slightest movement of the contact points.
In Still Lives a modified CD player slowly scratches through ten measures of recorded music by Giuseppe Guami (1540-1611). As the CD steps from one skipping loop to the next the continuous counterpoint of the canzona is suspended in wobbly harmonic blocks, over which a player improvises. The text, from Vladimir Nabokov's memoirs, addresses memory and mortality. This performance employs a software emulation of my beloved Sony DT66 Discman, which recently expired and has proven difficult to replace.
[notes by the composers]
New York born and raised, Nicolas Collins spent most of the 1990s in Europe, where he was Visiting Artistic Director of Stichting STEIM (Amsterdam), and a DAAD composer-in-residence in Berlin. An early adopter of microcomputers for live performance, Collins also makes use of homemade electronic circuitry and conventional acoustic instruments. He was Editor-in-Chief of the Leonardo Music Journalfrom 1997 – 2017, and since 1999 has been a Professor in the Department of Sound at the School of the Art Institute of Chicago. His book, Handmade Electronic Music – The Art of Hardware Hacking(Routledge), has influenced emerging electronic music worldwide.
David Behrmanhas been active as a composer and artist since the 1960s. Over the years he has made sound and multimedia installations as well as compositions for performance in concerts. Leapday Night, On the Other Ocean, Interspecies Smalltalk, Open Space with Brass andMy Dear Siegfried are among Behrman's works for soloists and ensembles. Among his sound and multimedia installations is Cloud Music(a collaboration with Robert Watts and Bob Diamond.) Together with Robert Ashley, Alvin Lucier and Gordon Mumma, he was a founding member of The Sonic Arts Union. He had a long association with the Merce Cunningham Dance Company and worked with John Cage on a number of projects. In 2016 he held the Inge Otto composer's fellowship at the American Academy in Berlin.
Matana Roberts. A dynamic saxophonist, composer, improviser, and mixed media sound artist, Roberts's artistic practice aims to celebrate the mystical roots and intuitive spirit-raising traditions of American creative expression in her artistic output . Her innovative work has forged new conceptual approaches to considering narrativity, history, and political expression within improvisatory structures and beyond.
die Reihe. Contributions to auditory art and culture
die Reihe. Contributions to auditory art and culture is an event series of the Master's program Sound Studies and Sonic Arts at the Berlin Career College at Berlin University of the Arts the Audio Communication Group at Technical University Berlin.
www.ak.tu-berlin.de/reihe | www.udk-berlin.de/sounds/diereihe​​​​​​​​​​​​​​