Medienhaus-Lectures: MOVE / DRIFT / SHIFT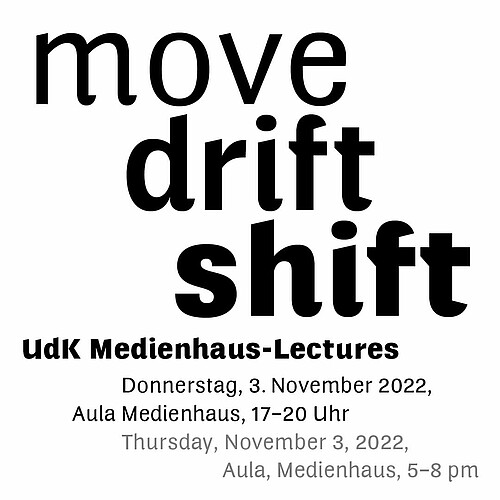 Thursday, November 3, 2022, Aula, Medienhaus, 5–8 pm
move, drift and shift describe a change of position and direction in time and space, the emergence of movement, but also a process of fundamental change of existing system landscapes. Most recently, the pandemic brought a time of immobility, narrowing down much of the space around us. Now that travel and exchange are eventually possible again, the war on Ukraine sets millions of people adrift, forcing them into a state of unwanted mobility. Can translation, linguistically, culturally or visually, shift understanding on a new level or does it remain a helpless gesture of good will? Medienhaus-Lectrues on November 3, 2022 is an attempt to examine these terms as a condition, challenge and expansion in regard to typography, writing systems and moving images, considering recent geo-political developments.
The Medienhaus Lectures take place every year in the Winter Semester, this year organized and moderated by Manja Ebert (Moving Images) und Roman Wilhlem (Typography).
GUESTS:
Yevgeniy Anfalov: Type design between Kyiv and Hanover
Yevgeniy, born and raised in Kyiv, studied art direction and type design at ECAL, Lausanne. Since then, together with Oleś Gergun, he has been active in the field of type design at the intersection between Latin and Cyrillic fonts (Kyiv Type Foundry) – But what does this actually mean, and how did this intersection shift for him in times of the Russian-Ukrainian war?
Dalida Karic-Hadziahmetovic: Political Posters in and from Bosnia
Dalida is a professor of visual communication at the Academy of Fine Arts Sarajevo. She has been designing political posters for decades. Against the backdrop of growing political tensions and the threat of war in Bosnia and Herzegovina, she will classify the relevance of the political poster for her communicative work and her living environment.
Mohsen Hazrat: Redunancy Repetitions
The Iranian media artist Mohsen Hazrati, born and raised in Shiraz/Iran, lives and works in Berlin. He graduated in graphic design from the Shiraz Art Institute of Higher Education (IRN) with a focus on new media and digital art. He talks about his work, which deals with Iranian literature, mystical culture and digital technologies.