Rewind & Fast Forward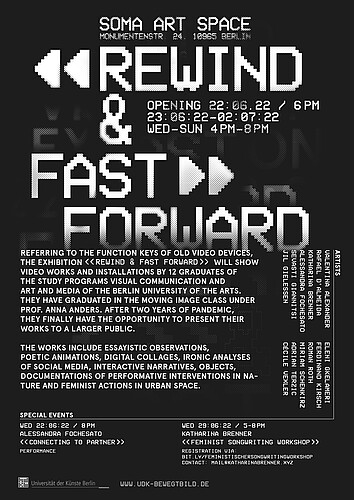 Referring to the function keys of old video devices, the exhibition "Rewind & Fast Forward" will show video works and installations by 12 graduates of the study programs Visual Communication and Art and Media of the Berlin University of the Arts. They have graduated between 2019 and 2021 in the moving image class under Prof. Anna Anders. After two pandemic years they now finally have the opportunity to present their works to a larger public.
SOMA Art Space defines itself as an independent non-profit initiative for contemporary art and culture and is run by artist and curator Nabi Nara. The impressive underground space is located near the Viktoriapark in Kreuzberg. From 1912 onwards, it was first used as a timber and coal store, then as a horse stable, during the war as a protective bunker, in the 1960s as a theatre and then as a school for acrobats and jugglers.
The works include essayistic observations, poetic animations, digital collages, ironic analyses of social media, interactive narratives, objects, documentations of performative interventions in nature and feminist actions in urban space.
Works by
Valentina Alexander, Rafael d'Almeida, Katharina Brenner, Alessandra Fochesato, Sevasti Giannitsi, Jil Gieleßen, Eleni Gkelameri, Ferdinand Kirsch, Roman Roth, Miriam Schenkirz, Adrian Terzić, Cécile Vexler.
June 23-July 2, 2022, Wed-Sun 4-8 pm
Wed June 29, 2022, 5-8pm
Katharina Brenner "Feminist Songwriting Workshop"
Registration via: bit.ly/feministischersongwritingworkshop
Contact: mail@katharinabrenner.xyz