Present Im/possibilities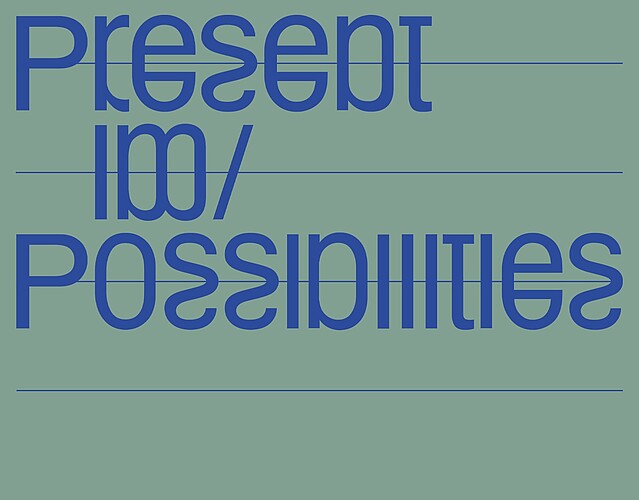 31.1.2023 (Vernissage) – 10.2.2023 (Finissage)
How do we go around a present that is evermore indeterminate, technologically mediated, and transversal to the artificial, natural, and cultural thresholds we once have known?
The students of the New Media Class at UdK Berlin are engaged with the creation and critical reflection of new technologies of communicating, feeling and sensing the unknown present and future. The exhibition is composed of projects – objects, installations, performances – developed during the global turbulence of the past two years, whose essence shed light into the ethos of our shared sense of time.
Part of Vorspiel transmediale 2023.
31. January, 18:00: Vernissage. Keynote, Byung-Chul Han.
04. February, 14:00: Workshop. Bi0film.net.
10. February, 18:00: Finissage. Graduate lectures.
Exhibition opening times
01.–10.02.23, Monday to Friday: 12–18:00, Saturday: 14–18:00.
20. January, 18–21:30: Vorspiel Opening, silent green, Gerichtstr. 35, 13347 Berlin
Credits
New Media Class
Led by:
Prof. Jussi Ängeslevä.
Assist. Prof. Luiz Zanotello.
Supported by:
Lecturers: Davide Prati, Robert Schnüll, John-Paul Bader.
Tutors: Hibiki Ishijima, Lukas Esser, Dirk Erdmann.
Made by:
Adel Akram Alameddine, Alexander Hahn, André Santos Martins, Dawoon Park, Dirk Erdmann, Erik Anton Reinhardt, Fang Tsai, Felix Müller, Florentin Aisslinger, Hayate Kobayashi, Hibiki Ishijima, Jens Tiemann, Juan Pablo Gaviria Bedoya, Julius Führer, Jung Hsu, Lucie Jo Knilli, Lukas Esser, Natalia Rivera, Niklas Söder, Orlando Helfer Rabaça, Philippe Hansen, Tsingyun Zhang, Vinzenz Aubry, Zoe Spehr, Özcan Ertek.
Graphics by:
Erik Anton Reinhardt.
designtransfer
Led by Ilka Schaumberg.