GRADUALE 23

– Ausstellung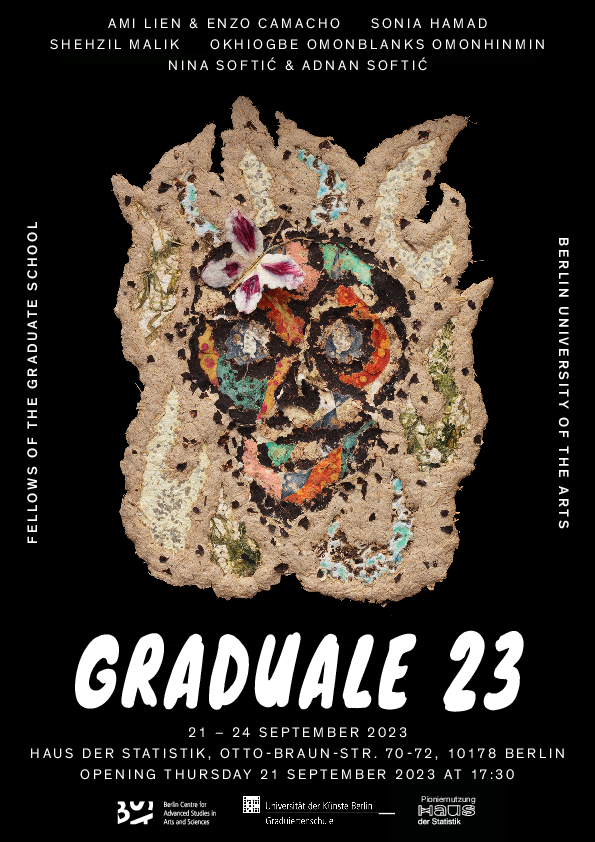 Final Exhibition of the UdK Graduiertenschule Fellowship 2021-23 at Haus der Statistik
with Enzo Camacho & Ami Lien, Sonia Hamad, Shehzil Malik, Okhiogbe Omonblanks Omonhinmin and Adnan Softić & Nina Softić
Opening on 21 September at 5:30pm with artist talks and exhibition.
What is the Graduiertenschule really? How to pin down the purposes it serves, the constituencies it caters to? Some refer to it as an academic experiment in disguise, or a Twilight Zone, or a Trojan Horse for extravagant aims in the faraway future. What we do know is that every two years, the postgraduate program of the Berlin University of the Arts marks the end of a fellowship cycle with an exhibition.
So could this event offer some answers to the above questions? In fact, a group show is always a complex process. It would be unfair, not to say unrealistic, to expect it to address the mysteries not even a Fellow or a Gastprofessor can clarify. But what a show of this kind can do is assemble five distinct artistic positions, five ways to commemorate a two-year process. However distinct these practices may be, our event will offer a prism through which to see them both individually and in dialogue with one another.
Please join us in raising a glass to the Fellows 2021-23 – and to those who will follow shortly in their footsteps.
https://www.udk-berlin.de/forschung/graduiertenschule/aktuelles-archiv/graduale-23/