RIP Wolfgang Boettcher (30.1.1935 - 24.2.2021)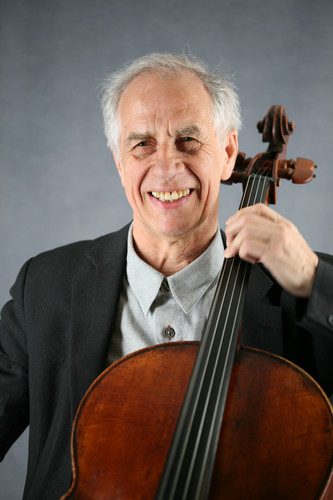 One of the greatest and most versatile Cellists has gone......he was former Principal Cellist of the Berlin Philharmonic, founding member of the 12 Cellists of the Berlin Philharmonic, Cellist of the Brandis Quartet, Soloist and of course a legendary teacher - my predecessor and wonderful colleague at the UdK Berlin.
I first met him at the ARD competition in Munich 1994, where he was in the Jury (he himself had been a prize-winner of this competition in 1958, as a Cello-Piano duo together with his sister Ursula Trede-Boettcher). The jury gave me the first prize, but obviously my Dvorak in the finals hadn`t been that great, and Wolfgang had a lot to critizise: "you are so young, and already so many "clishés" - look here, when the second theme comes back in the recapitulation, you play constantly forte, but check the score, it`s certainly piano! You have to play Dvorak precisely, and you have to know not only your part, but the whole score!" Of course he was absolutely right...
Later I got my first job in Berlin and became principal cellist of the DSO Berlin. I had a great time in this orchestra, the cello section was wonderful in terms of cellistic quality and atmosphere. I`m sure, one of the reasons for this was the fact that almost half of the section`s cellists were former Boettcher students. This throws a light on his fantastic success rate as a teacher - the DSO cello section is only one example of many, including of course the Berlin Philharmonic cello section, too.
When he retired from UdK, Wolfgang Boettcher played a series of concerts at the school, all the Bach Suites and some contemporary pieces, all from memory....I will not forget the wonderful, noble sound he produced on his beautiful Goffriller, somehow comparable to Bernhard Greenhouse and his Strad. His Bach interpretation was inspirational, too, because it showed clearly that he had never stopped to be curious and open to new ideas and rather unconventional solutions, like playing the second Bourrée of the fourth Suite pizzicato, for example.
After retirement from UdK Wolfgang Boettcher continued to teach at our school with a reduced number of students. We often worked together, judging exams, for example. His comments and criticism, of course presented in his incomparable "Berliner Schnauze", were always constructive and highly inspiring, both for the students and for us younger colleagues. In fact, in many ways he seemed younger than we were....
Thank you, dear Wolfgang, for all that you have given to the music and the cello world! Your legacy will always be a challenge.