What happens after the warning?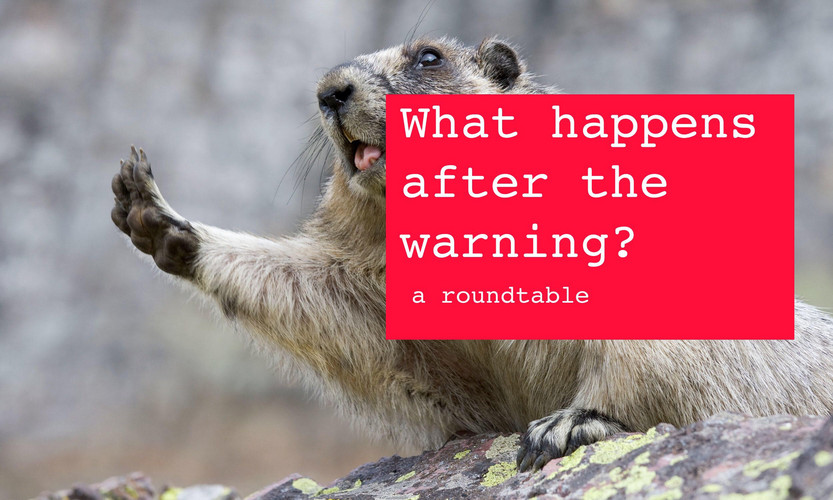 As final part of the exhibition "A Word of Warning"
A roundtable discussion with Yalda Afsah, Neslihan Arol, Anthony R. Green, Didem Pekün and Romily A. Walden

Who is to issue the warning? What role do you take on — what position is anyone putting themselves in — when you, or they, address others in this key? Whistleblower, voice of authority, survivalist, spokesperson of life under pressure? Where are we when we raise this question today? In the field where political subjects are recognised in the key they address each other in, and rights need to be reclaimed for justice (survival) to become possible? What would it mean to equally consider these questions from a creaturely perspective? The groundsquirrel's squeaks warn fellow forest dwellers of incoming hikers, they emit impulses within the neuronal network of life connected in the woods. In the key of warning, what would it mean for art to communicate like a citizen and/or connect like a squirrel?
When? Where?
22 September 2019, 6pm
Spike Berlin
Rosa Luxemburgplatz Berlin
Rosa-Luxemburg-Straße 45
10178 Berlin
Spike Berlin/ Yvonne Lambert is wheelchair accessible through the back entrance: Almstadstrasse 52 (grey gate) through the courtyard. There are accessible toilets in the building next to the venue (Belushi's). The venue is nearest to the metro station Rosa-Luxemburg-Platz station (no elevator). The nearest wheelchair accessible station is Alexanderplatz (~ 850m). There are seatings with backs available. No ID necessary for entry. Please contact bas3@intra.udk-berlin.de for more information.