Textile Territories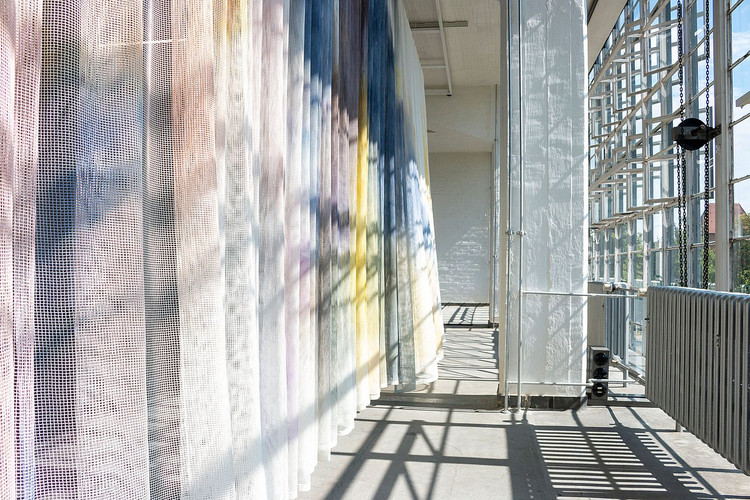 On Collecting: Textile territories (1) Otti Berger
Installations by our former fellow Judith Raum
Otti Berger is the subject of two linked exhibitions. After Otti Berger's murder in the Auschwitz concentration camp, her textile work was scattered incoherently in archives throughout the world. Berlin artist Judith Raum has developed two installations for the Bauhaus Dessau Foundation formed of fragments of this oeuvre. In the Intermezzo in the Bauhaus Museum Dessau she juxtaposes four of Berger's original designs from the thirties to designs that were still created at the Bauhaus Dessau. In this way she pursues the question whether fragments of a once continuous practice might be reassembled into a cohesive narrative.
For the largescale installation in the former textile workshop in the Bauhaus Building Judith Raum, after complex research and collaborative work, had one of Berger's curtain fabrics rewoven out of the last Bauhaus collection, creating a stage for the yardage together with new video works that reflect conflicts and setbacks encountered during the work.
Both installations critically look at Berger's contribution to fabric design of the 1930s, open and closed doors she faced with her work, and her conflict-laden relationship to Lilly Reich. The installation in the original spaces of the Bauhaus textile workshop includes 220 square meters of highly translucent lace net, painted and dyed to react to the architectural situation on site, as well as two new video works.
Judith Raum has been preoccupied for several years with Otti Berger's work and the specific quality of her textiles. Based on intensive research in European and North American archives throughout the world, she has produced numerous installations, videos and lecture performances on the utility fabrics of the Bauhaus.
When? Where?
24 June - 3 October 2021
Bauhaus Museum Dessau (Black Box) & Bauhaus Building (Weberei)
Mies-van-der-Rohe-Platz 1 & Gropiusallee 38
06844 Dessau-Roßlau