Nika Somborac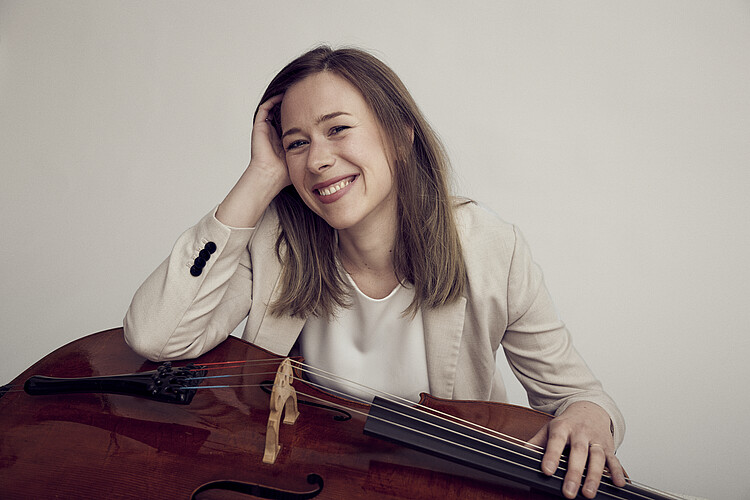 Nika Somborac is a diverse musician with a strong background in ensemble playing. She has been performing in Europe and overseas since 2011 as a cellist of the Furiant Quartet as well as in various chamber music groups, and is a regular guest player in renowned orchestras including Kammerakademie Potsdam, Württembergisches Kammerorchester Heilbronn and Munich Chamber Orchestra. In addition, contemporary music and working with composers such as Helmut Lachenmann, alongside her passion for baroque cello and historically informed performance play a major role in her artistic activities.
She has appeared in chamber music and solo concerts at festivals such as Aix-en-Provence Festival in France, Stellenbosch Festival in South Africa, Rheingau Festival, Gezeitene-Konzerte in Germany, Amici della Musica Udine in in Italy, Festival Ljubljana in Slovenia, and Eufonia Festival in Romania among others.
She was a prizewinner in several editions of Slovenia's National Competition and won First Place in the "Boris-Pergamenschikow-Preis" and Third Prize in the "Irene Steels-Wilsing Stiftung competition for Young Quartets" in Berlin in 2016.
Born in Ljubljana, Slovenia, Nika began learning music from her father and continued her studies with Igor Mitrovič in Klagenfurt. She has attained her Bachelor and Masters degree of Music in Rostock in the cello classes of Thomas Kaufmann, Valentin Radutiu and Natalie Clein as well as in the chamber music class of Eberhard Feltz at the "Hanns Eisler" Music University in Berlin.
Further inspiration came from masterclasses with renowned musicians as Heime Müller, Kristin von der Goltz, Leonid Gorokhov, Rainer Schmidt, members of the Casals and Belcea quartets and others. In the Academy of the "Freiburger Barockorchester" and multiple academy sessions of the "Bathasar-Neumann-Orchestra" she was able to build her experience in historically informed performance of early music. She continues to expand her knowledge of baroque and classical music performance on period instruments under the guidance of Pablo de Pedro and Lea Rahel Bader.
Having been a part of "Live Music Now" foundation during her study years, Nika is also extremely engaged in social projects and musical education and strongly believes in the importance of bringing music to places and people outside the reach of major concert halls. She is a passionate teacher and holds a position in the Music School "City-West" in Berlin, where she teaches students from young age up to pre-college level, and regularly sits on the juries of competitions in Berlin. She has given cello and chamber music masterclasses in the Conservatory of Trieste in Italy and as a part of Eufonia Festival in Romania. Since April 2023 she has been teaching on the faculty of the University of Music and Theatre in Rostock.