Artistic direction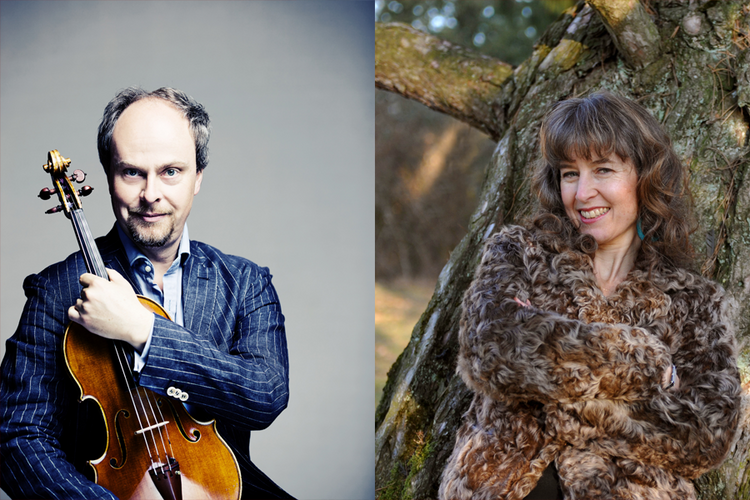 Nora Chastain, granddaughter of composer Roy Harris, was born in Berkeley, California where she began her violin lessons with Anne Crowden. Her studies continued at the Cincinnati Conservatory and at the Juilliard School in New York with Dorothy DeLay and in Europe with Alberto Lysy, Sandor Vegh, Ana Chumachenko and Sir Yehudi Menuhin. At age sixteen she made her debut in Berlin playing Barber´s Violin Concerto and since then has been a regular guest with such orchestras as the San Francisco Symphony, the Orchestre de Paris, Cincinnati Philharmonia, the Jerusalem Symphony Orchestra and the Bern Symphony Orchestra. She is a founding member of the Menuhin Festival Piano Quartet and Trio Kreisleriana.
Her chamber music activities have brought her to many of the worlds´s capitals, including Frankfurt, Hamburg, Berlin, Bonn, Paris, Milano, Zürich, Geneva, Edinburgh, Washington D.C., New York, Boston, San Francisco and Sydney. Ms. Chastain´s recordings include sonatas of Mozart, Beethoven, Faure, Debussy, many works for piano trio and quartet as well as Bartok´s second violin concerto. She has been a prize winner at several competitions including the Menuhin Competition in Paris in 1985. In 1993 she was awarded the prestigious annual "Förderpreis der Europäischen Wirtschaft" in Zürich as soloist. An active teacher, Nora Chastain is Professor of violin at the Universitaet der Kuenste Berlin and the Hochschule für Musik und Theater Zürich. Until 2004 she held a Professorship at the Musikhochschule Luebeck.
As one of Europes most sought after teachers, Nora Chastain has amongst her students international prize winners, concertmasters of major european orchestras, members of well known chamber ensembles and faculty members of universities of music. She gives regular master classes and serves on juries of international competitions. A main focus of her teaching is the integration of the american and european traditions of violin playing of the last 50 years.
Hartmut Rohde is one of the leading and most sought-after European violists, renowned for his stylistic versatility and rhetorical perceptiveness. He is especially interested in bringing a historically informed approach to his interpretations of the classical, romantic and contemporary repertories. Among Rohde's regular chamber music partners are Janine Jansen, Jörg Widmann, Christian Tetzlaff, Kolja Blacher, Paul Meyer, Lars Vogt and David Geringas. He holds a professorship at the University of the Arts Berlin, and is founding member of the renowned Mozart Piano Quartet which undertakes extensive worldwide tours.

Hartmut Rohde served as Principal Conductor and Artistic Director of the NFM Leopoldinum Orchestra in Wroclaw from 2014 to 2017. Highlights of his tenure have included a performance with Giovanni Antonini and Il Giardino Armonico in 2016, and a performance of rare classical viola concertos with Reinhard Goebel. Rohde has also recently conducted the Biel Solothurn Symphony Orchestra and Accademia di Cervo, and continues to develop collaborations with the Lithuanian Chamber Orchestra and other chamber ensembles. He has appeared at the Berlin Philharmonie, Pablo Casals Festival in France, Düsseldorf Tonhalle, Festival Wratislawia Cantans, Haydn Festival Schloss Augustusburg among others. Deutschlandradio Kultur broadcast several of these concerts. Rohde has recorded orchestral works by Korngold, Laks, Jarnach and Kilar for the cpo label, to critical acclaim. Particular highlights in 2019 will be performances at the Naantali Festival in Finland and at the Vienna Konzerthaus with the Franz Liszt Chamber Orchestra Budapest, followed by a recording of works by Hans Gál, also for cpo. Further he collaborates with the Hamburger Camerata touring Germany among others a concert in the Laeiszhalle Hamburg.

As violist, Hartmut Rohde has performed at such prestigious international venues and festivals as Carnegie Hall, Berlin Festival, Concertgebouw Amsterdam, Schleswig-Holstein Music Festival, Seoul Arts Center, Le Pont Festival Japan, Ravinia Festival USA, Wigmore Hall, Australian Chamber Music Festival, "Spannungen" Festival, Moritzburg Festival, Bantry Festival and the International Jerusalem Music Festival. Concerto engagements have included performances with orchestras including Beethoven Orchestra Bonn, NDR Radiophilharmonie, Munich Symphony, Bremen Philharmonic, and Lithuanian and Yerevan philharmonics, as well as the chamber orchestras of Munich, Mannheim and Basel.

Conductors with whom Rohde has collaborated include Kent Nagano, Paavo Järvi, Michael Sanderling, Georg Alexander Albrecht and Massimo Zanetti. He has been written works by such composers as Krzysztof Penderecki, Brett Dean, Nils Sören Eichberg, Krystof Maratka, David Philip Hefti and Olli Mustonen.

Hartmut Rohde has made numerous international radio recordings, as well as recording discs for EMI Classics, Decca, BMG/Sony, MDG, cpo and Naxos. In 2004, he won the Supersonic Award..