22 April 2021 | katrinem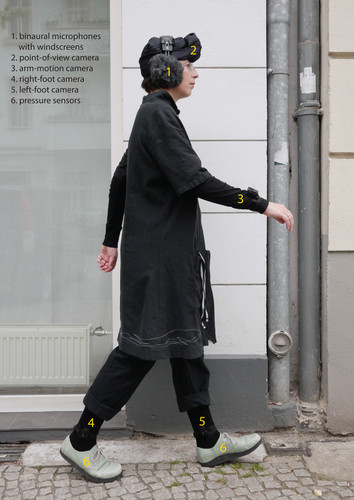 Thu Apr 22
Guest: katrinem
born 1969 in Augsburg, lives and works in Linz (A) and Berlin (D). The examination of sound and space has long been an integral part of katrinem's artistic work. Comprehensive training in classical music (violin/viola) with constant performance practice (orchestra, ensemble) formed the broad early foundation that led to a specialization in spatial performances and new performance practices. Gaits, walking rhythms and their imprints on public space were subject areas already being explored in her master's degree in composition. For over 12 years, katrinem has been investigating in her artistic research the walkability of cities and its associated spatial perception. Two aspects of her current artistic research and process are emphasized: Observing a site (Platzstudien) and personally experiencing space while walking (SchuhzuGehör_path of awareness). For the project GANGARTEN (go your gait! part_6), katrinem received a grant from Linz Export and with gaits in Albufeira (go your gait! part_13) was prizewinner of the competition, Europe – a sound panorama.
The Aus der Reihe series of artist talks at SoundS, curated by Prof. Daisuke Ishida for the summer semester 2021, explore the diverse field of sound arts practice and introduces students and the community-at-large to a range of international interdisciplinary sound practitioners including artists, curators, critics, and researchers. Primarily for the current MA Sound Studies and Sonic Arts students at the UdK, these talks are also open to the general public and students from all other institutions and departments.
Thursdays | 15:00 – 19:00 p.m. | online
To attend this online public lecture series, it is required to register via email.
Please send an email to ausderreihe_ @udk-berlin.de with the following details.
1. Full name and a screen name if you wish.
2. Email address
3. Institution and study subject, if applicable
Note: please login to the lecture room with your registered full name or screen name.
You will then receive further instructions.