22-25 June 2022 | next generation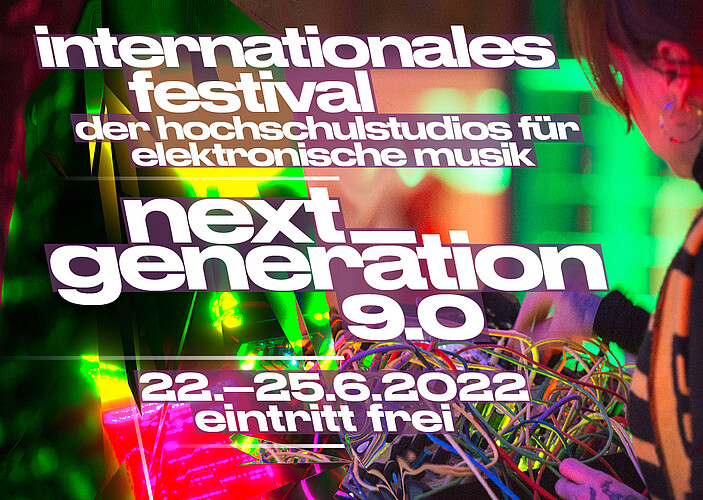 We are proud to present Prof. Daisuke Ishida and alumni Haku Sungho and Elizabeth Davis will be speaking and showing their works at »next_generation« 9.0 at ZKM Karlsruhe from June 22-25, 2022.
As the largest meeting of university studios for electronic music, »next_generation« offers young composers a platform to present their new compositional developments.
From Wednesday, June 22 to Saturday, June 25, 2022, the ninth edition of the festival »next_generation« will take place at ZKM. Over the course of four days, an exciting and dense program will cover the latest positions on the topics of »fixed media«, »spatial music«, and »live electronics«. Thus, next_generation 9.0 guarantees a representative overview of the current creative work of the upcoming generation of composers in the context of technology and art.
This year, students of electronic university studios from Germany, Austria, France and Switzerland will have the opportunity to present their work in concerts and numerous installations at various locations in the ZKM, or to exchange ideas about their own areas of interest in lectures and discussions. In addition, professors and lecturers will report on current developments in the individual studios and departments.
Lecture Program
Wed, 22.06.2022, 1.30 pm CEST – Sat, 25.06.2022, 3.15 pm CEST, Lecture, ZKM | Center for Art and Media Language: English
An exciting lecture program on current topics and focal points of the university studios for electronic music enriches the festival »next_generation 9.0« from Wednesday to Saturday, starting at 1:30 pm each day before the evening concerts. The lectures will take place in the ZKM Lecture Hall.
Session V, Friday, 24.06, 1:30 PM

Prof. Daisuke Ishida (UdK Berlin)
»20 Years The SINE WAVE ORCHESTRA.Retrospect, Development, and Perspectives on Future«
https://zkm.de/de/sonstiges/2022/06/nextgeneration-90-vortragsprogramm
Installations
Wed, 22.06.2022 – Sat, 25.06.2022, ZKM | Center for Art and Media
In addition to the lecture program and the evening concerts, the ZKM Hertz-Lab presents all-day installations by students of the participating university studios for electronic music. All installations are located on the first floor.
Installations Udk Berlin
Wed – Sun June 22 – 25, 2022
Location: ZKM langes Studio
Haku Sungho »Sway - The Baltic Sea Coast of Germany«, (2019 – 22)
https://zkm.de/de/sonstiges/2022/06/nextgeneration-90-installationen
Concert
Fri, 24.06.2022, 5 pm CEST, Concert, Media Theater, Cube Friday, 24.06.2022 Concert V, 5:00 pm CEST, Media Theater
UdK Berlin
Elizabeth Davis »Feedforward«, (2022), For Digital Synthesis, Soloist & Computer Performer, 20'
Haku Sungho »Sway - The Baltic Sea Coast of Germany«, (2019 – 22), Performance With LP Disk Made of Ocean Plastic & Laptop, 15' – 20'
https://zkm.de/de/sonstiges/2022/06/nextgeneration-90-konzert-v-und-vi