Charles Curtis & Dr. des. Bernhard Rietbrock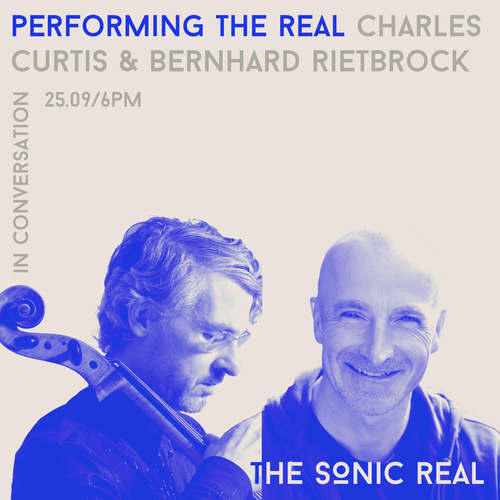 Charles Curtis
Cellist Charles Curtis was born in 1960 in Laguna Beach, California. After attending Juilliard he taught part-time at Princeton, performed widely in the solo and chamber music repertoire, and worked with the bands King Missile, Dogbowl and You Suck. From 1989 to 1999 he was principal cellist of the Symphony Orchestra of the North German Radio in Hamburg. His long creative relationships with experimentalists such as La Monte Young and Marian Zazeela, Alvin Lucier, Tashi Wada and Éliane Radigue have brought into being a body of distinctive works modeled on his cello-playing and performing persona. Naldjorlak (2003-2005) by Éliane Radigue is a concert-length solo cello work made collaboratively with Curtis, her first composition for an acoustic instrument and a live performer without amplification or electronic support. Some fifteen compositions by Alvin Lucier have involved Curtis in a central capacity; and he is the leading interpreter of La Monte Young's just intonation string music in the world. Curtis is Distinguished Professor of Music at the University of Calfornia, San Diego.
Dr. des. Bernhard Rietbrock
Dr. des. Bernhard Rietbrock studied Sound Studies at the University of the Arts in Berlin, where he also received his PhD at the Faculty of Music on the topic of Alvin Lucier's Reflexive Experimental Aesthetics. He has been a research associate at the Zurich University of the Arts since 2014, where he currently leads the Swiss side of the DACH research project Hearing the Other - On the Aesthetic of the Real in Experimental Music and Sound Art at the Institute for Music Research. In 2016, he founded the Ever Present Orchestra at the ZHdK as part of the research project Reflexive Experimental Aesthetics after Alvin Lucier, with which he has since given concerts worldwide as artistic director together with Alvin Lucier.