Volker Straebel & Dr. Luc Doebereiner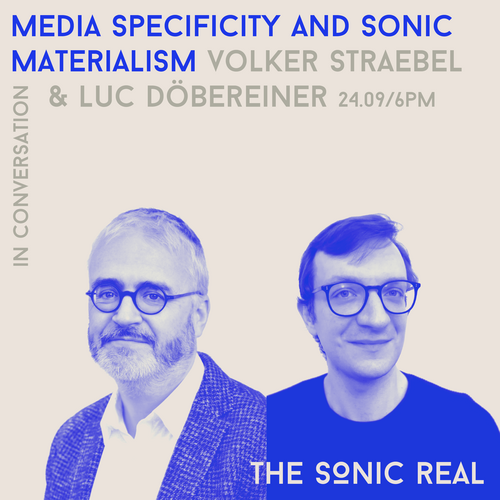 24 SEP 2021
6PM
Volker Straebel and Dr. Luc Doebereiner in conversation, moderated by Jan Thoben
Media Specificity and Sonic Materialism
A materialist understanding of sound addresses not only its corporeal, tangible and affective dimensions as distinct from subjectivist thought and spirit. It also raises questions about sound's technical mediation. What role does media technology play in conceptualizing the sonic real? While media and the real bear an intrinsic relationship, the claim that (recorded) sound itself provides direct access to the real has been subjected to critical scrutiny. Volker Straebel and Luc Döbereiner will present perspectives on sonic materialism and on media specific strategies in the sonic arts.
Volker Straebel
Volker Straebel (1969) is a musicologist focusing on experimental and electro-acoustic music, sound art, intermedia, performance and concept art. Between 2015 and 2020, he was director of the Sound Studies Master program at the Berlin University of the Arts, after having served as director of the Electronic Music Studio at the Technical University Berlin. He has realized and performed electronic music and indeterminate works by John Cage and others. His publications include pieces on sound art, media-specific music, John Cage, Alvin Lucier, and Phill Niblock. Since 2021, he serves as the Dean of the Herb Alpert School of Music at the California Institute of the Arts
Luc Döbereiner
Luc Döbereiner is a researcher and composer of instrumental and electronic music from Berlin. He studied at the Institute of Sonology in The Hague and holds a doctoral degree from the University of Music and Performing Arts Graz. His work is concerned with compositional models and explores the relation of materiality, ideality, perception and algorithmic computation of sound.
Jan Thoben
Jan Thoben is a Berlin-based musicologist, art historian and musician. He has been teaching at universities and art universities in Germany and the UK since 2013. He worked as a research and teaching assistant at the Academy of Fine Arts Leipzig from 2015-2017 and at the Mainz Academy of Arts from 2017-2019. Since 2017, he has been the interim program coordinator for the master's program Sound Studies and Sonic Arts at the Berlin University of the Arts, where he took over as interim program director in 2021.
Jan Thoben has published on experimental music as well as on sound art and media art practices of the early 20th century (https://udk-berlin.academia.edu/JanThoben).
Together with Bernhard Rietbrock and Trevor Saint, he is artistic director of the Ever Present Orchestra (http://everpresentorchestra.net) and has worked on audiovisual transformation in the context of various sound art projects.