24 July 2022 | THE END IS NOT THE END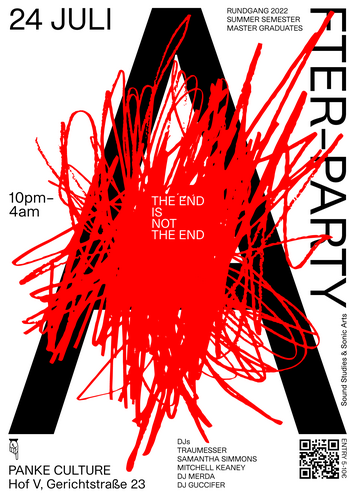 To celebrate the end of the Rundgang, the final days of the Summer Semester and the graduation of a generation of SoundS students, we are hosting a party with an all-SoundS DJ line up. You can jump straight from the Rundgang at Lieztenburger str. 45 to Panke, where we will be dancing into the morning. SoundS students, alumni, teachers, friends and the public are all welcome. We hope to see you there and of course bring your friends and spread the word!
____
THE END IS NOT THE END
July 24 22:30 - July 25 04:00
FB event: https://fb.me/e/59pDRI772
Panke Culture
Hof V, Gerichtstraße 23, 13347 Berlin
LINE UP
22:30 - 23:30: Samantha Simmons
23:30 - 00:30: DJ Guccifer
00:30 - 1:45: Mitchell Keaney
1:45 - 2:45: Dj Merda
2:45 - 4: traumesser
Entry - 5-10€ donation
____
About the DJs
Samantha Simmons
Berlin/NYC based DJ and music supervisor Samantha plays an eclectic mix
of found and recorded sounds to create overarching themes based on
locations, weather, glass, heat, cold, airlines, trains, transportation,
food, fog, animals, water, shopping malls, etc.
Mitchell Keaney
Over the years Mitchell Keaney has been known to play out under monikers
such as DJ Waytansea, Glinodo, and most recently (as a context-specific
situation) DJ Shit. Although he never tries to push the energy faster
than 115 bmp, his goal is always to get everyone, including himself,
sweating like we're back in his Sonoran Desert hometown. Put simply, his
dj sets are aligned with an "everything goes" and "nothing is off the
table" attitude.
traumesser
a. modica is a Berlin-based sound artist and performer from Italy.
During the last few years in the German capital his research and
practice shifted towards electroacoustic performance and installation
work, exploring the liminal spaces between noise and tonality, extreme
texture and microsound, and complex sonic ecosystem involving feedback
and chaotic behaviours.
His moniker traumesser is born as a result of various club-related
influences, ranging from atmospheric breakbeats to faster and more
invasive dancefloor hitters, with the aim of creating a dynamic and
enveloping sonic experience.
DJ Merda
DJ Merda (aka Davide Luciani) plays bass music, free jazz, drum n bass,
drill, dub, perreo, folk and industrial music without the need for
aesthetic coherence. His dj sets are dedicated to free improvisation and
genres melting pot
DJ guccifer
DJ guccifer plays a mix of baile funk, proibidao, and post club.
Colourful, sexy and hysteric music