24.11.2018 | INFO DAY SoundS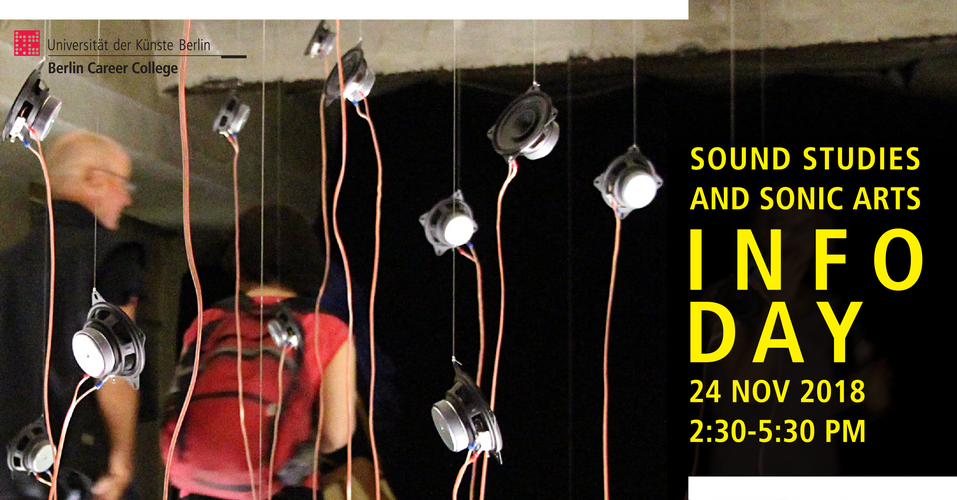 Visit us on our INFO DAY!
2:30 - 5:30 p.m. November 24, 2018 in Berlin.
The programme will start at 3 p.m. sharp.
You have burning questions? Want to know if we are right for you? Or if you are right for us? Want to see our facilities and meet our faculty? Maybe you'd like to get some insights from some of currents students?
In preparation for our next application round between February 1-15, 2019 for the class of 2022, we cordially invite you to our INFO DAY 2018 where you can meet our faculty and students, check out our facilities and find answers to your questions about our Master's program.
Afterwards one of our extracurricular events die Reihe will take place, presenting the Swiss sound artist, musician and researcher Gilles Aubry. His practice is based on a performative approach to field recording, documents and historical sources, often in collaboration with other disciplines. He critically addresses listening, sound practices, music, technology and environmental voices, examining their relations to power structures and ideologies in various contexts. Entrance is free as always.
We are very much looking forward to meeting you!
Please register at ask_ @sounds.berlin

INFO DAY 2018 SoundS
24.11.2018 | 2:30-5:30 p.m.
Sound Studies and Sonic Arts
Universität der Künste Berlin 

Lietzenburger Straße 45
3rd floor
10789 Berlin
The program will start at 3 pm sharp.
facebook event
die Reihe. Beiträge zu auditiver Kunst und Kultur - presenting Gilles Aubry
24.11.2018 | 6 p.m. | performance
Universität der Künste Berlin
Lietzenburger Straße 45
Room 103
10789 Berlin
facebook event
Please register for the Open Day at ask_ @sounds.berlin