29-31 October | Lietze Mon Amour | UdK Rundgang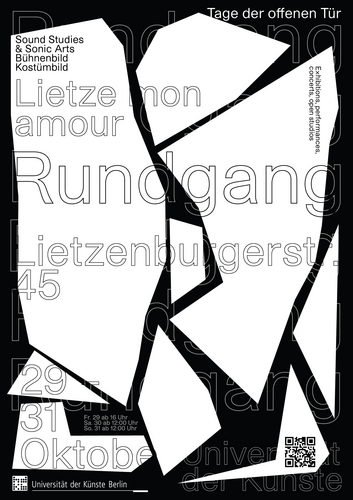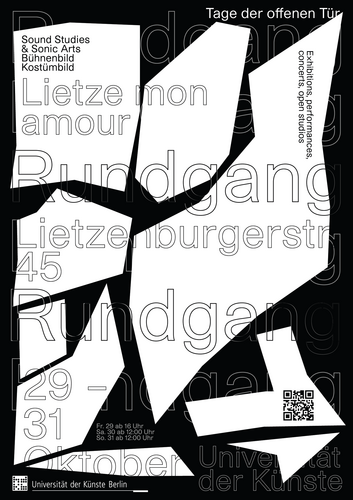 UdK's Rundgang is expanding across the campus to Lietze, the home of Sound Studies and Sonic Arts, Costume and Stage Design. Over the last weekend in October, the building will be open and showcasing the works of students from these departments, including open studios, installations, video, sound art, concerts and performances running all weekend.
___
Opening hours:
Friday 29/10: Vernissage 16:00-23:00 with DJs and drinks in the yard
Saturday 30/10: 12:00-21:30
Sunday 31/10: 12:00 - 20:30
DJs @ Vernissage:
A. Modica, Maf, Geoffrey LaRue, True Romantic
Performances and Concerts from the MA in Sound Studies and Sonic Arts:
Friday 29 Oct 2021
18:00 Mariana Carvalho and Lara Alarcón
19:00 Diana Fonseca
20:15 Mitchell Keaney
21:15 Davide Luciani
Saturday 30 Oct 2021
18:00 Shun Momose
19:00 Hayden Dean Prosser
20:00 Genesis Victoria
21:00 Chris McWayne
Sunday 31 Oct 2021
18:00 Lottie Sebes with Adrienn Illés
19:00 Vilte Gustyte
19:45 Schahin Paimani and Maryam Katan
**Audiences will be limited to 15-25 people depending on the concert space, please come early to secure a spot!**
Installations from the MA in Sound Studies and Sonic Arts by:
Samuel Perea-Díaz, Nicolai Krog, Anna Lioka, Victor Yrigoyen, Kim Wichera, martin moolhuijsen, Andreas Sommer
Video art from the MA in Sound Studies and Sonic Arts by:
Yuhua Li, Ani Samperi, Aodhagan O'Flaherty, Hayden Prosser, Kate Miller
Research, investigation, projects, filmic and performative works from the MA In Costume Design by:
Sabryna Nitihardjo, Viktoria Posavec, Elin Lautenbacher, Charlotte Schwärmer, Ryan Flynn, Mina Puresic, Els Van Buggenhout, Zoë Agathos
'Nachtgestalten': works from the BA in Costume Design by:
Wieland Lemke (performance at 19:30 on Saturday 30th), Jule Posadowsky, Una Steinbrecher, Nina Ballhause, Belinda Masur, Lea Knippenbergs, Sophie Elise Siegel, Johannes J. Jaruraak
Open studios from the Stage Design Students of Prof. Janina Audick
DJ line-up for the vernissage to be announced soon
___
Please note that all visitors must have proof of either a negative test (not older than 24 hours), complete vaccination, or recovery. Masks, a minimum 1,5m distance and digital contact tracking are required for all visitors. Person limits also apply to the spaces of the building. Thanks!