13 Nov 2023 | Dr. Pedro Oliveira | Crossover/Crosstalk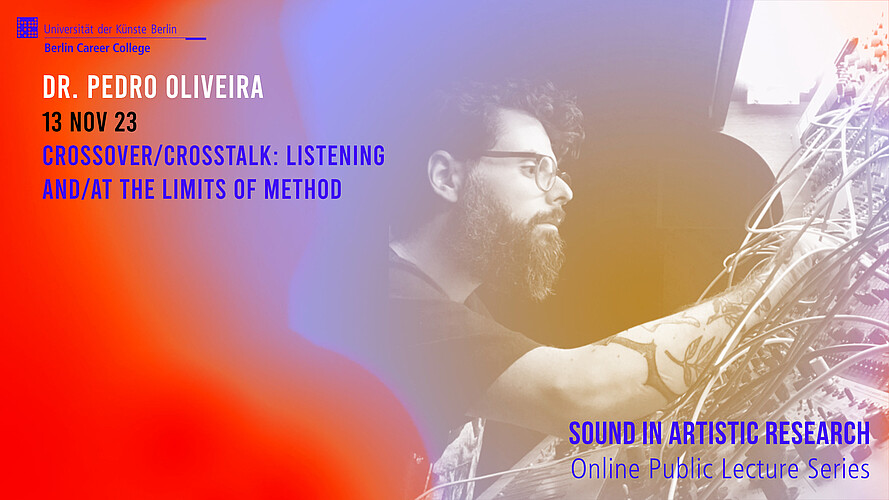 In this talk I will present and discuss my ambiguous relationship with methods as they emerge in both my academic and artistic practice, focusing on ways of arriving and finding comfort in unsettlement. Using the border as both object of study and place of enunciation – largely inspired by the work of Gloria Anzaldúa –, with my work and research I seek to probe and rehearse the limits and limitations of the artistic and academic by complicating the boundaries and demands of both. I will outline these issues with and through my most recent artistic production, which stems from my long term project of inquiring the so-called "dialect recognition software" used by the German migration authorities in asylum cases. We will listen and discuss the ways in which these works are traversed by and speak to academic research and political activism.
Dr. Pedro Oliveira is a researcher and sound artist whose work is committed to an anticolonial study of listening and its intersections with violence at the European border. He has exhibited and performed work at the Akademie der Künste Berlin, Send/Receive Festival Winnipeg, CTM Festival, Blaues
Rauschen Festival, Haus der Kulturen der Welt, Fondazione Merz Torino, Festival Novas Freqûencias, Akademie Schloss Solitude, the Max-Planck Institute, among others. Currently he is a Research and Arts Fellow at the Leuphana Institute for Advanced Studies, and occasional lecturer at the Sound Studies and Sonic Arts at the Universität der Künste Berlin. He holds a PhD from the Universität der Künste Berlin.