29 JAN 2024 | Dr. Zeynep Bulut | Historical Turns and Promises of Sounding Together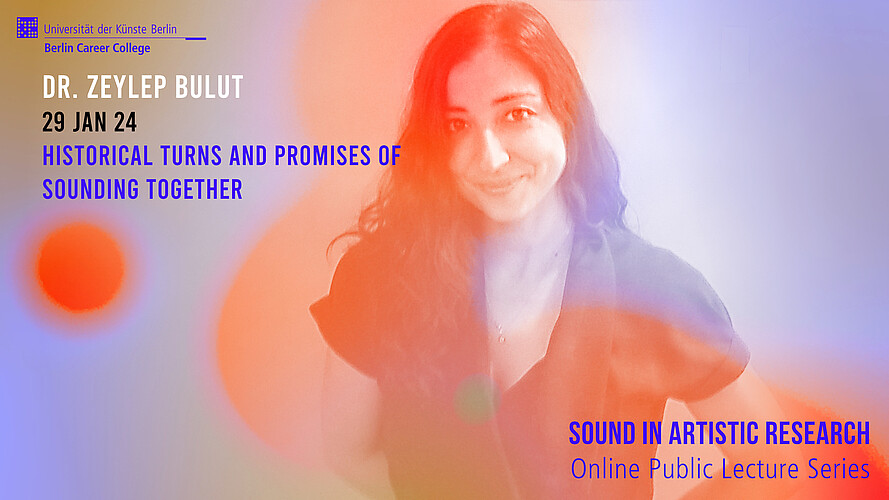 This talk will consider the historical terms and cultural significance of artistic research in sound. The term, "artistic research," has been employed in academic and creative contexts since the early twentieth-century. Radical formations of the time, such as the Bauhaus School and Black Mountain College, introduced inter and cross-disciplinary possibilities of art making, and informed art making as research. They also underlined the processes of art making both as an individual and as a communal practice associated with the foundations of "democratic citizen." (Turner 2013, 2019). Since then, various research initiatives, which use the terms like practice-based research, research-based art or artistic research, at various institutions across the globe directly or indirectly incorporate these ideas into their programmes. In particular, artistic research in sound has pursued and contributed to experimental, experiential, improvisational, collaborative, socially engaged, and participatory turns of creative, social, and scientific research. The promise of these turns and artistic research in sound is arguably to develop critical and unorthodox methods to raise awareness for individual and collective environs, to further contextualise, question, and discuss contemporary social issues such as the climate crisis, mobility and migration, as well as to highlight sound making and sounding together as a transformative way for considering new ways of being together. In this talk, I will look at this promise closely. I will explore what different forms of sound making and sounding together may capacitate and transform, drawing on works by Pauline Oliveros, Lina Lapelyte, and John Akomfrah.
Dr. Zeynep Bulut has been a Lecturer in Music at Queen's University Belfast since 2017. She was previously an Early Career Lecturer in Music at King's College London (2013-2017), a post-doctoral research fellow at the ICI Berlin Institute for Cultural Inquiry (2011-2013), and a visiting postdoctoral fellow at the Max Planck Research Group "Epistemes of Modern Acoustics," led by Prof. Dr. Viktoria Tkaczyk at the Max Planck Institute for the History of Science (2018). She received her PhD in Critical Studies/Experimental Practices in Music from the University of California, San Diego (2011). Her research interests include voice and sound studies, experimental music, sound and media art, technologies of hearing and speech, voice and environment, and music and medicine. Her first manuscript, titled, Building a Voice: Sound, Surface, Skin (under contract with Goldsmiths Press), explores the emergence, embodiment, and mediation of voice as skin. Her articles have appeared in various volumes and journals including The Oxford Handbook of Sound Art, Perspectives of New Music, Postmodern Culture, and Music and Politics. She is reviews editor of Twentieth-Century Music. Alongside her scholarly work, she has also exhibited sound works, composed and performed vocal pieces for concert, video, and theatre, and released two singles. Her composer profile has been featured by British Music Collection. She is a certified practitioner of Deep Listening, and project lead for the research network and platform, Music, Arts, Health, and Environment (MAHE) supported by the Economic and Social Research Council's Impact Acceleration Account at QUB.