26 Jan 2022 | Jenny Gräf Sheppard | Sound in Artistic Research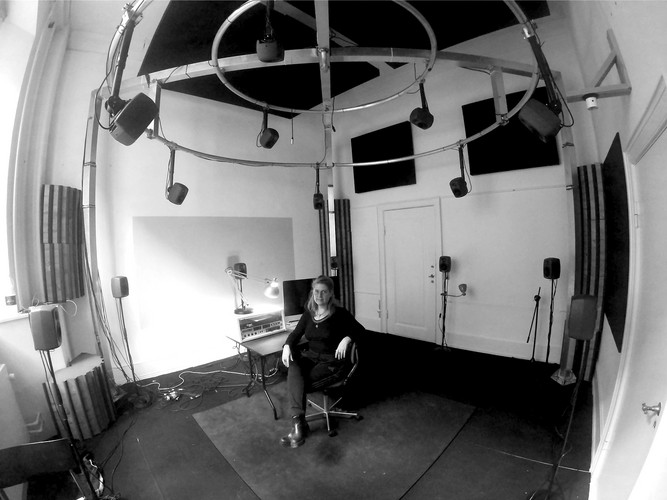 Lecture: Sonic Orientations Ambisonics Research
In this talk I will present the framework for research that takes place within the research project, Sonic Orientations, as a means to describe how sound and sonic methodologies function as articulations. I use the terms sounding to refer to a range of specific sonic methodologies that work to collapse (or perhaps question) distinctions of sounder/listener, subject/object, audience/artist, while also serving to emphasize in the present participle the movement, time, change and action of practice. In sharing the theoretical framework of the project along with audio-visual documentation, I aim to share the ways in which we are sounding research. The project comprises one part of my PhD titled Communicating Vessels: redefining agency through sounding.
Sonic Orientations, funded by the Danish Ministry of Culture, establishes a facility and research group around Ambisonics (3D sound) and its potential in Media Art to open up new perspectives on subjectivity and narrative through spatialized sound. Sonic Orientations research is framed by the question: What are some of the methods and techniques that can be used within Ambisonic immersive sound to experiment with shifting subjectivity, orientations and new narrative forms? The project initiates an international dialogue around this particular sound technology and its potential in VR and Media Art formats to re-orient the listening subject. A research group works to develop approaches to Ambisonics chamber as not simply a tool, but as a creative instrument for working with fluid subjectivities and experimental narrative approaches. With theoretical texts that inform our creative experiments, we are pushing the potential of this very under-studied form of 3D sound. By exploring this immersive sound technology and associated practice from a theoretical perspective, the aim is to connect various theoretical ideas with the experiential potential of spatialized sound, offering new perspectives on subjectivity, agency and narrative.
Moderator: Jacob Eriksen
Jenny Gräf Sheppard is a musician, artist and sound researcher based in Copenhagen. In her work, she activates peripheral places and states through sound composition, improvisation and participatory works. She works with immersion and rupture to explore changing perceptions of diegesis and space, formal choices rooted in a deep interest in social behaviors and perceptual fields. Her works range from sound collaborations with older women with dementia, to tactile speaker design, and collaborative research within an Ambisonic chamber.
Sound in Artistic Research
In the winter semester 2021/22, Sound Studies and Sonic Arts presents a lecture series exploring sound in artistic research. The genome of the master program implies an understanding that theory and practice mutually inform each other and represent two sides of the same coin. We'd like to invite you to join this lecture series and explore the different perspectives on the topic of artistic research as an encouragement to reflect on your own positioning.
Artistic research, aesthetic research, and practice-based research have gained a lot of momentum at art schools and universities in the past few decades. Focusing on alternatives to established methodologies and paradigms based on evidence, historical and political analysis, musicology, critical thinking, and cultural studies, this lecture series addresses how artistic research has been established in sound studies and in the sonic arts.
Primarily for the current MA Sound Studies and Sonic Arts students at the UdK, these talks are also open to the general public and students from all other institutions and departments.
Wedensdays | 18:00 – 20:00 p.m. | online