Laboratory for Drawing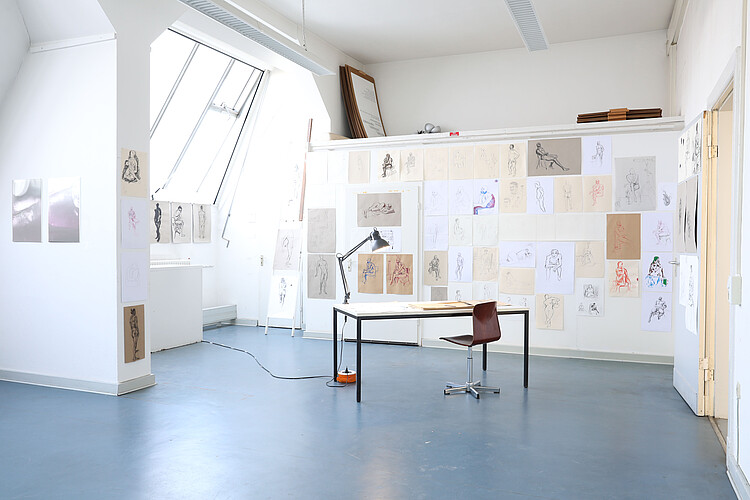 The drawing lab opens up a space for the complex activity of drawing as a possibility of analysis and as a process of perception and cognition. In the analytical drawing course, spatial information is decoded through the study of nature, and forms, contrasts and line qualities are examined in dealing with the surface. With the Experimental Drawing course, the laboratory offers students the opportunity to acquire basic knowledge of various artistic printing techniques, to experiment with these reproduction processes and to explore their limits. The Drawing Laboratory provides a good balance between exercises and free experimentation. Here tools, methods and topics can be discovered that form the basis for further artistic work.
As part of the courses offered by the drawing laboratory, an etching press and a book proofing press can be used for letterpress and gravure printing in the laboratory.
Drawing Lab
Grunewaldstr. 2–5
10823 Berlin
Room
R025/026 and R309
Information on Opening Times or Consultation Hours
Thursday, 10 a.m. to 3 p.m., Room 025/026
Wednesday, 10 a.m. to 2 p.m., Room 309
Workshop Management Office Hours
Please arrange office hours by email
Workshop Management
Kerstin Hille
k.hillle@udk-berlin.de
Tutor
Thaís Resendes Curvelo
thaisresendes_ @gmail.com
Emma Hutton
emmahutton876_ @hotmail.co.uk