Illustration Class Book Release Party and Exhibition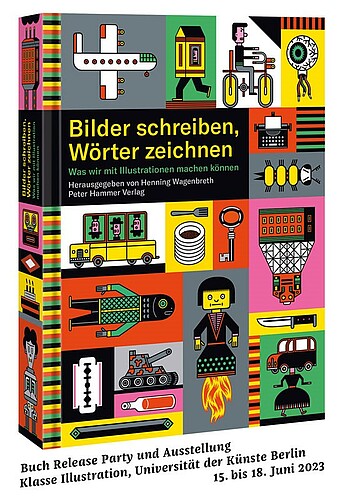 Was wir mit Illustrationen machen können
Over the last 25 years, the Illustration class at the Berlin University of the Arts has developed intelligent solutions for design tasks in politics, culture, science, business and society, which Henning Wagenbreth now makes accessible in a book. In addition, this anthology contains illustrated contributions on technical topics, on important protagonists and publications in the history of illustration. The publication of the book will be celebrated with a party and an exhibition.
Book release party and exhibition opening:
Thursday, 15 June 2023, from 7 p.m.
Other events:
Friday, 16 June, 6 p.m. to 10 p.m.
Exhibition, presentations from 7 pm
Saturday, 17 June, 12 to 22 hrs
Exhibition, presentations from 7 pm
Sunday, 18 June, 12 to 19 hrs

Exhibition
*On all days there will be a sales table with books and original graphics, and from Friday to Sunday there will also be a rich programme: various lectures, a lottery with attractive prizes, drawing games, paper cutting, portrait drawing and more.