RAUMKLASSE TALKS – Winter 2022/23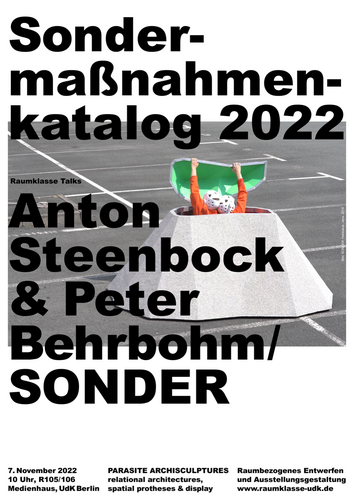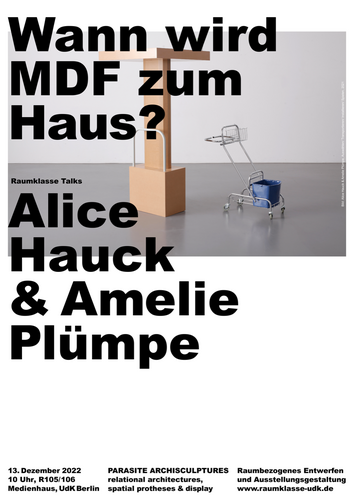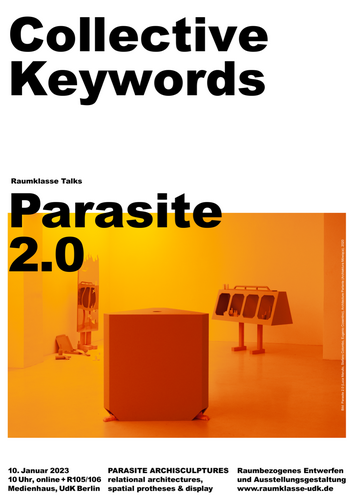 This semester, Raumklasse is playfully questioning disciplinary borders between the arts and design. We are trying to redefine the supposed borders of architecture, sculpture, (furniture) objects, spacial (communication) displays and human interaction. We are designing spatial, typographic and medial interventions and spatial structures that dock on to the buildings of UdK Berlin, occupy or run away from them. Parasitical mini-architectures, spatial prostheses or ambiguous furniture objects that turn into hosting structures for the UdK Journal.
This semester, the class is hosting RAUMKLASSE TALKS again. Speakers from the fields of design, the arts and architecture will speak on the topic.

07. November 2022 – 10 h, R105/106
Peter Behrbohm & Anton Steenbock (Sonder)
Sondermaßnahmenkatalog 2022
13. Dezember 2022 – 10 h, R105/106
Alice Hauck & Amelie Plümpe
Wann wird MDF zum Haus?
10. Januar 2023 – 10 h, online
Parasite 2.0
Collective Keywords
More information at_ www.raumklasse-udk.de
Poster Design_ Valentin Jauch

Warm invitation!