A Word of Warning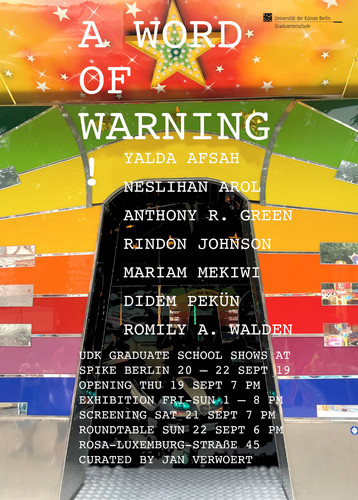 The one world you knew never existed. There's always been more than one, and that one was but a dream. Welcome to realities. Warning: this goes to the core. Note: lots may still happen.
A project with performances, exhibition and talks by the fellows and associates of the Graduate School, Yalda Afsah, Neslihan Arol, Anthony Green, Rindon Johnson, Mariam Mekiwi, Didem Pekün and Romily Alice Walden, curated by Jan Verwoert.
When?/ Where?
19/09, 7pm vernissage, performance Anthony R. Green
21/09, 7pm film screening
22/09, 11am workshop with Neslihan Arol
22/09, 6pm discussion / finissage
opening hours exhibition: 20 -22/09 1pm – 8pm
Spike Berlin
Rosa Luxemburgplatz Berlin
Rosa-Luxemburg-Straße 45
10178 Berlin
Spike Berlin/ Yvonne Lambert is wheelchair accessible through the back entrance: Almstadstrasse 52 (grey gate) through the courtyard. There are accessible toilets in the building next to the venue (Belushi's). The venue is nearest to the metro station Rosa-Luxemburg-Platz station (no elevator). The nearest wheelchair accessible station is Alexanderplatz (~ 850m). There are seatings with backs available. No ID necessary for entry. Please contact bas3@intra.udk-berlin.de for more information.

Concept
A word of warning
Expect no commentary. This art doesn't come after the fact. No googly eyed puppet will peek out from behind the eight ball and offer opinions on the fix we're in. Why would puppets limit their role to being reactive when reality is theirs to forge? I mean forge, not fake. Big difference. Dreams precede events, they let you see what's about to take place and how fate may possibly still be changed. Let puppets voice the lucid visions and premonitions which a sixth sense for the surreal can give you. Shadow play is an ancient tradition, it turns flat puppets on sticks into the animated signs for telling truths that can't otherwise be voiced. Augurs of ancient times understood the flight of birds to foreshadow the future. Today, some comedians scan the skies over political debate with equal precision. Without a firm grasp on the absurd, how could you look beyond the simulacra erected in the place of the real by the powers that be, and touch on those spheres of common life in which monsters are born? A Russian colleague told me the funniest joke in his language today: What happens when a car burns in the forest? A passing bear sits in it, and dies.
Expect no false politeness. This art speaks boldly. It's made by descendants of subaquatic people with more than one mother, in hot pursuit of new technologies for sending bodies to space. This art seeks contact to frogs lining the bar in VR waterholes because it's worth knowing whose side all those Kermits are on. This art adds a body to the camera eye, as it moves in step with the ebb and flow of you men magnetised by the coming and going of a monster offscreen. No one has yet determined what bodies are capable of so this art challenges anyone to a fight who maintains ignorant notions of ability. This art won't allow the dizzying number of men dying at the hands of law enforcers on US streets distract from why they get shot, this art mourns. The many voices of this art may sound like they have a strange ring to them. But that's only because they faithfully resonate with voluminous desires.
Voluminous desires oppose the hollow fetishes of power that block access to the real today. Presidents and prime ministers win the vote by making politics look like a joke everyone can be in on. Bluff is a recognisable brand. The con you know is better than the contract you fear. Nudge nudge pessimism has granted Conservatives immunity from good faith ever since Hobbes coined their motto: "Wolves ask for top down management. Aren't we all?" I once saw a coyote watch me from the trees, and its piercing eyes didn't strike me as looking for guidance. Least of all, from right wing killer clowns. If what happens to that bear in the forest is anything to go by, true laughter is not binding. Some of the best jokes in life are profoundly unfunny, so they don't force you to laugh along. Should you, however, eventually giggle, it may be because you feel for the bear and know what it means to get yourself into trouble. When voluminous desires make the love of the absurd break its bond with the brand of fatalism that autocrats breed, the affinity to all things noir may turn into an otherworldly kind of clairvoyance. Don't expect the art in this show to deliver anyone from the need to keep pushing. But trust it to transpose the tune to the key of "push".