Group exhibition in Mexico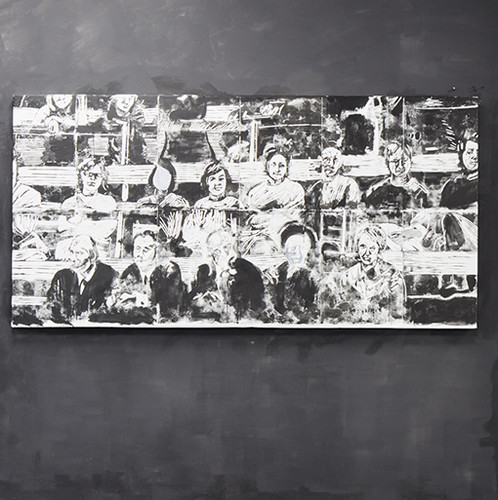 TERRITORIUM | Tijuana is a point of departure for an exhibition in progress; an open invitation to a shared process of thinking and working together of friends and colleagues in Tijuana and beyond. The project began with the conception of the exhibition Tunnel below / Skyjacking above: deconstructing the border in Berlin in 2017 and continues in the format of TERRITORIUM, imagined as a fertile ground for artistic collaboration beyond the gallery.
In this context alumna Lisa Glauer is exhibiting her piece "Onlookers". Using traditional drawing techniques while obviously alluding to independent comix and zine (sub)culture as well as nodding towards Manga, Lisa Glauer is using linoleum printmaking to ironically comment both the machismo of eighties style German painters working under the label "neoexpressionism" and art historical references. It builds the story about a Precarious Artistic Researcher and her repeated bouncing off the Man Suit Barriers she encounters during her dealings with institutionalized patriarchy, before venturing into darker territory of the history of the Women's Clinic in Berlin, located close to the former Cold War Iron Curtain, where Precarious Artistic Researcher has been working. In her large scale wall prints, she deals with the public attending presentations in medical lecture halls found in historical archives.
When? Where?
31 July to 22 September 2019
IMAC – Instituto Municipal de Arte
Calle Benito Juárez 2da y Constitución s/n
Zona Centro
C.P. 22000 Tijuana, Baja California
México

more information