Ostkreuz School of Photography - Graduates 2018/19 at kunstraum braugasse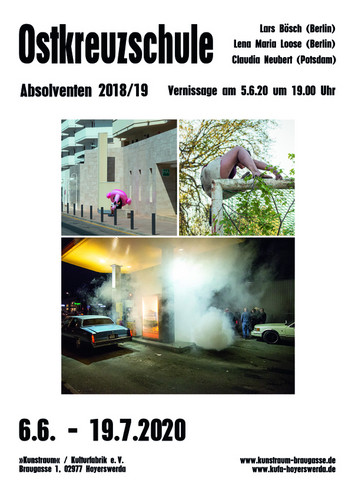 Our colleague Lena Loose presents together with the photographers Lars Bösch and Claudia Neubert her final project Bucht at kunstraum braugasse of the Kulturfabrik Hoyerswerda. The three of them are graduates of the class of Ludwig Rauch 2018/2019 at the Ostkreuz School of Photography in Berlin.
Bucht is a work about open space and urban change. "Whoever lives here can have everything" is the title on a website of a real estate company talking about the Rummelsburger Bucht in Berlin. Here - coveted excursion destination and exclusive residence in a prime location - phenomena of urban change processes are currently condensing. Lena Maria Loose tells the story of people who found an unusual home on water or on land in the bay in Berlin, for whom there is no room in the city's plans.
When? Where?
Opening: 5 June 2020, 7 pm
Exhibition: 6 June to 17 July 2020, Mon-Fri 10am-6pm
Kulturfabrik Hoyerswerda
Braugasse 1
02977 Hoyerswerda
more information (in German)