Amy Lien & Enzo Camacho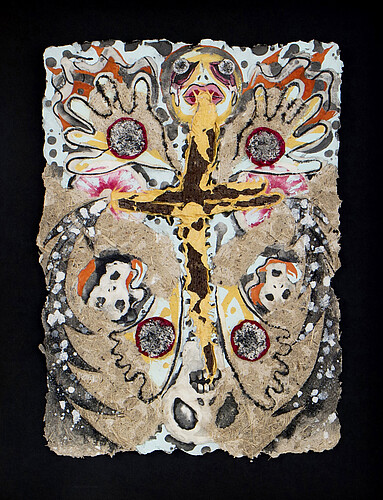 The Angry Christ is a research-based art project which revolves around a remarkable religious mural in the Philippines known as The Angry Christ. Commissioned for a chapel built to service the workers of an industrial sugar mill on the agricultural island of Negros, the mural was painted in 1950 by the queer, Filipino-American modernist Alfonso Ossorio. Building upon field research in Negros and archival research in the Philippines and the US, the project will seek to imaginatively enlist Ossorio's Angry Christ mural into the ongoing political struggle over land, food, and dignity, as it continues to play out today in the Philippines (and elsewhere).
Amy Lien and Enzo Camacho are collaborating artists from the US and the Philippines. Their practice moves from the Philippines outwards to other places, addressing localised iterations of labour and capital from the perspective of post-colonial damage. They have shown at the Kunstverein Freiburg (Freiburg, Germany), Green Papaya Art Projects (Quezon City, Philippines), the Brunei Gallery at SOAS University of London (London, UK), the Lab at NTU Center for Contemporary Art (Singapore), and the 13th edition of Manifesta (Marseille, France). They will present work in the upcoming EVA International Biennial (Limerick, Ireland) and the New Museum Triennial (New York, USA).