Final Digital Event "The Knowledge of the Arts is a Verb"
07. - 08. May 2021
Place:
The event is digitally open to the public. Registration is not required. All information on linking will appear here in April.
In German
07 May
from 10 am, "Das Wissen der Künste ist ein Verb – Ein Glossar" available at www.wissenderkuenste.de
17:00 Welcome and launch of the glossary
18:00 Panel "Art and Science"
08 May
14:00 - 16:30 Panel "Practices and Processes"
17:00 - 19:30 Panel "Situatedness and Transformation"
Online launch of the lectures as podcasts on the website www.wissenderkuenste.de as well as public panels in three digital forums on overarching issues of the Kolleg.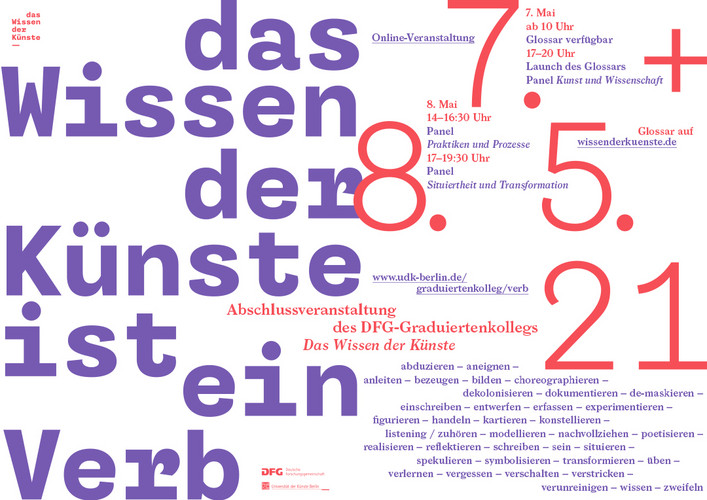 In June 2021, the DFG Research Training Group The Knowledge of the Arts will come to an end after nine years of interdisciplinary research at the Berlin University of the Arts.
Almost seventy people will then have shaped and supported the Kolleg as professors, postdocs and doctoral students, research students and academic coordinators. In the interplay of art and cultural studies, theater, music and media studies, philosophical, pedagogical and engineering disciplines, the conditions, effects and critical potentials of a specifically artistic generation of knowledge were investigated. We would like to take this long and intensive path of questioning, investigating and researching as the occasion for a joint review.
In short lectures, which will be published as podcasts, members from different phases of the Kolleg will present a glossary of scientific and artistic practices condensed into verb forms that discuss and further think about the diverse results of their work. The contributions are available as podcasts in a separate edition of our publication on the website www.wissenderkuenste.de.
On May 7 and 8, 2021, we invite you to the joint launch of the glossary, after which we would like to discuss overarching themes and issues of the college with the audience in three digital forums. The forum "Art and Science" will address innovations and intersections between the arts and sciences; the forum "Practices and Processes" will shed light on aspects of artistic research and the becoming-aesthetic of theory; and the forum "Situatedness and Transformation" will discuss the critical potential of the arts for the formation and (de)stabilization of knowledge orders and regimes.
abducting – appropriating – instructing – witnessing – forming – choreographing – decolonizing – to document – de-masking – inscribing – designing – capturing – experimenting – figuring – acting – constellating – mapping – listening / hearing – modeling – comprehending – poetizing – realizing – reflecting – writing – being – situating – speculating – symbolizing – transforming – practicing – (re)learning – forgetting – interconnecting – entangling – contaminating – knowing – doubting