Laboratory Talk with Monica Bonvicini on artistic production, knowledge and gender politics
18. December 11:00 - 12:30 [online]

As part of the Action Day #4GenderStudies, the DFG Research Training Group "Knowledge in the Arts" invites you to a 90-minute online conversation with the artist Monica Bonvicini, which takes place in the event series IN THE LABORATORY: Talks on Artistic Practice.

Participation in the talk is possible, but registration required. It is mainly conducted in German language. The
number of participants will be limited. Before the session, all interested parties will receive a link to the online conference tool. Please register by December 15 by sending an e-mail to Sarah Hampel, s.hampel_ @udk-berlin.de.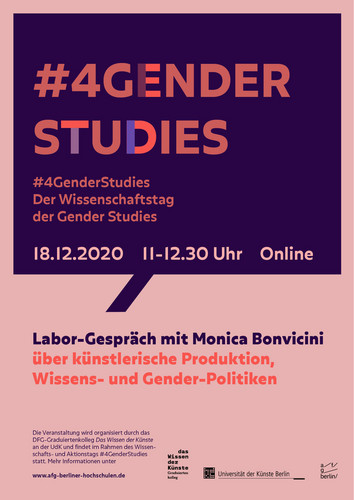 In the sculptural-installative work of Monica Bonvicini, gender aspects of material and language, sexuality and power, art history and architecture, participation and performance, atmosphere and climate have played a determining role since the 1990s. Starting from this, the conversation explores the politics of knowledge, means, procedures, and relations that shape the production of Bonvicini's works through research and conception, design and construction, exhibition and reception. The discussion is conducted by the members of the DFG Research Training Group " Knowledge in the Arts". The transcisciplinary group explores the significance of the arts in the production and dissemination of various forms of knowledge.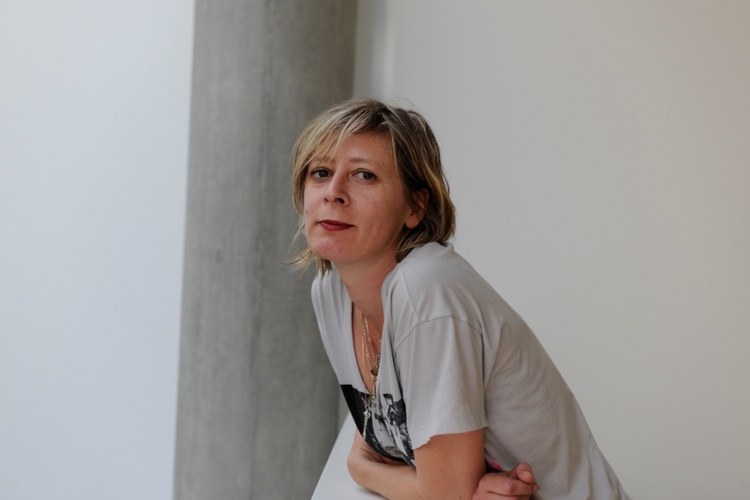 Monica Bonvicini (born 1965, Venice) lives and works in Berlin, where she has been teaching as professor of sculpture at the University of the Arts since 2017. Prior to that, she taught as Professor of Performative Art and Sculpture at the Academy of Fine Arts Vienna from 2003.
She is best known for her expansive and sometimes monumental installations, in which she explores the structures of power and seduction in public space and the architecture surrounding people. Typical for her practice is the use of materials such as chains, leather or chainsaws. Especially for her outdoor installations, however, she also relies on the use of linguistic statements and messages. Monica Bonvicini has been awarded internationally renowned prizes. Among others, she won the Golden Lion at the Venice Biennale (1999), the Prize of the National Gallery, Berlin (2005) and most recently the Oskar Kokoschka Prize (2020).