Orchestra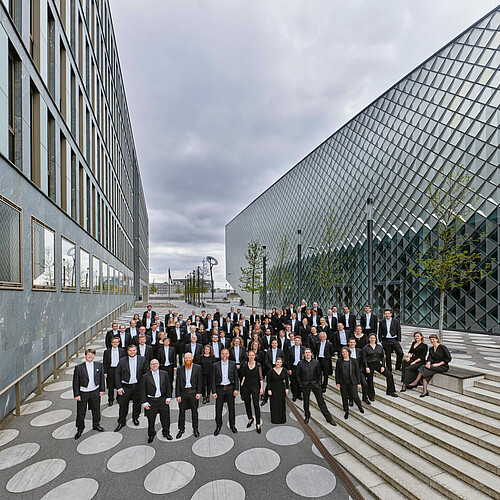 Rundfunk-Sinfonieorchester Berlin
The Rundfunk-Sinfonieorchester Berlin (Berlin Radio Symphony Orchestra) traces its existence back to the first "Funk-Stunde Berlin", the birth of public radio in Germany, on 29 October 1923.

Since that day, musicians and conductors such as Otto Urack, Bruno Seidler-Winkler, Eugen Jochum, Sergiu Celibidache, Hermann Abendroth, Rolf Kleinert, Heinz Rögner and Rafael Frühbeck de Burgos have formed an orchestra that has experienced the vicissitudes of German history in the 20th century in a special way.
In the 21st century, Marek Janowski (2001 to 2016) was succeeded in 2017 by Vladimir Jurowski, who as Chief Conductor and Artistic Director is leading the orchestra's soon to be 100-year tradition into the future, not least by extending his contract until 2027.

Young conductors of the international top class made their Berlin debut with the RSB: Andris Nelsons, Yannick Nézet-Séguin, Vasily Petrenko, Jakub Hrůša, Alain Altinoglu, Omer Meir Wellber, Michael Francis, Lahav Shani, Karina Canellakis (from 2019 to 2023 Principal Guest Conductor of the RSB), Thomas Søndergård, Antonello Manacorda, Edward Gardner, Nicholas Carter.

Renowned composers of the 20th and 21st centuries took the podium of the orchestra or performed their own works as soloists: Paul Hindemith, Arthur Honegger, Darius Milhaud, Sergei Prokofiev, Richard Strauss, Arnold Schönberg, Igor Stravinsky, Wladimir Vogel, Kurt Weill and Alexander Zemlinsky, and more recently Krzysztof Penderecki, Berthold Goldschmidt, Peter Maxwell Davies, Friedrich Goldmann, Peter Ruzicka, Jörg Widmann, Daniel Schnyder, Matthias Pintscher, Siegfried Matthus, Heinz Holliger, Thomas Adès, Brett Dean and Marko Nikodijević. In 2021/22, Yelena Firssova was the orchestra's composer-in-residence.
The RSB is committed to young people, among other things with the sponsoring orchestra Deutsche Streicherphilharmonie, with young musicians in its own ranks (Orchestra Academy) and with the family, school and children's concerts.

In addition to its extensive activities for radio, the RSB makes numerous studio recordings, often with forgotten repertoire rarities. After the major Wagner and Henze editions with Marek Janowski, a new chapter of recording activities has begun with Vladimir Jurowski.

The RSB has a national and international live presence. For more than 50 years, it has made regular guest appearances at German and European festivals, in the Far East and in music centres worldwide.