Oxford - Berlin Creative Collaborations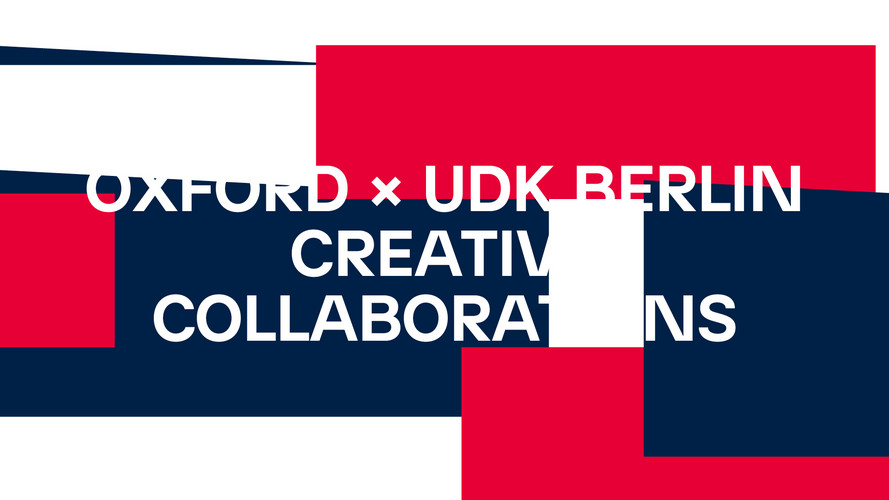 The Oxford / UdK Berlin Creative Collaborations
Our encounters between researchers and artists from the Berlin University of the Arts (UdK Berlin) and the University of Oxford open up new fields of engagement between the arts, humanities and sciences. We anticipate that this new exchange of methodologies, modes of representation, language and other qualities will lead to innovative contributions in the arts and sciences alike. We embrace a worldview that purposely goes beyond preconceived disciplinary borders and integrates speculative, subjective and positivistic approaches to problem-solving and creation. Launching these encounters alongside the current shift to digital communication requires also a critical assessment of the impact that any given media has on the execution of its dependent activities. It is our desire to develop a balanced interaction between content and media, which can support, inform and structure each part positively and grant new experimental spaces of shared exploration between the members of both universities. The encounters are intended to provide a novel emphatic perspective on how we can work, think and communicate.

The Oxford/Berlin Creative Collaborations
10 Cre-AI-tivity: Blood in a Whatsapp message?
This last in our trilogy explores data as the foundation of AI systems. We learn how this enables mapping individual learners' progress and benchmarking in a teaching context, but also how that data exchange raises ethical issues.
We explore how artificial intelligence builds functionalities on different data streams and consider our options to select and influence such 'training data'. Investigating this from a position understanding teaching as enabling a learner's response, we discover how intimate conversations with Romeo & Juliet arise from what manifests as the AI's 'agency'. Yet we have to check in how far this also enables interactions that we wouldn't want to encourage or support. Prompting listeners to engage in their own observations and interactions with machine learning, we advocate curiosity outside academic's traditional comfort zones and building your own critical attitude alongside symbiotic relationships with relevant partners, agreeing work packages which relate to differential skill sets. Setting out a space for serendipity, and claiming a license to fail emerge as key catalysts in the process of applying artificial intelligence in the arts and humanities.
9 Cre-AI-tivity: Hogwarts 4ever?
The second in our trilogy of podcasts explores the role AI can play in story creation and development. We learn how machines can extend a fictional story world, as well as our interaction with it.
As 'digital sparring partner' machines enable us to push our own creativity, literary theory helps us understand how creatives work, and how their role can be better understood.
As there is hesitation about Artificial Intelligence composing, painting or writing creatively, we focus on opportunities to train and amplify the human creative 'muscle'. We examine the role of effective, bold human decisions as part of creative expression, besides tools like predictive text capabilities or allowing the reimagining of a creative work, e.g through a romantic algorithm. How can we visualise and otherwise explore meaning in a fresh way? What do we want from potential interaction, and are we missing the closure that is such an important part of experiencing a work of art? We anticipate the audience feeling more invested in the fictional world once put their own perspective into it, prompted by the AI. As we can stretch a narrative from 800 to 18.000 pages at the push of a button, how far are they willing to follow?
8 Cre-AI-tivity: Make the machine work 4u
First in a trilogy explores the impact of AI on story creation and reception. We learn how machines enable audiences to experience the humanity of fictional characters. Yet a 'rhetoric of innovation' gets in the way of understanding what is happening.
Artificial Intelligence can support a wider and deeper experience of story worlds drawn from either fiction or factual research. We look at practical applications making characters appear more human and are better understood because of a non human intervention that provides different access points to the story, and can extend this in both interactive and unexpected ways. As both the original creative work and its audience shape a new and unique experience, traditional models of authorship, agency and audience reception are further undermined. In the context of rapidly evolving methodologies, we look at the impact of wider trends leading to a 'rhetoric of innovation' that influences research and funding perspectives. How can we reconcile the simultaneous experience of 'losing control' with 'a sense of superpowers' that our keyboard afford us?
7 Animal Eyes on the Planet (3/3): The Aesthetics of an Intangible World
In this third and last podcast on Climate Crisis Thinking we work with the Japan's indigenous Ainu culture and history to explore how artists can respond to intangible aspects of the world and express them.
What does it take to work sensitively and reciprocally towards our natural and social environment?
6 The Sound of Contagion 2/3
The "Sound of Contagion" explores what a society of contagion can sound like and how technology can illuminate 2020 pandemic and others throughout history.
In this episode the three researchers (Haith, Laidlow, Mehnert) present and reflect on sections of the narrative generated by the algorithm and the music inspired by it. You can find the narrative with researcher notes here: https://www.soundofcontagion.com/narrative. The collaboration weaves together world-building, speculative fiction, artificial intelligence, and music to offer strange and thought-provoking answers.
5 Animal Eyes on the Planet (2/3): The Felt Knowledge of a More-Than-Human-World
In this second podcast from the Berlin and the Oxford creative collaboration on Climate Crisis Thinking we acquaint ourselves with the Japan's indigenous Ainu culture and history. The encounter leads us to rethink our cultural values to discuss climate issues kindly, gently, and radically.
4 WillPlay: Chat, Play, Learn Shakespeare
Created on the Charisma.ai platform, WillPlay is an AI-powered, immersive reimagining of Shakespeare's plays which allows school students to chat online with Shakespeare's characters and message their way through the drama. In this podcast, we discuss how WillPlay was created, exploring the inspiration behind the project and our ideas for future developments.
11 Feb 2021 - Kate McLoughlin, Ariane Jeßulat, Sylee Gore, Thorsten Weigelt
Silences explores what we mean by silence and what silence means to us. Interweaving silences, sounds and voices, it reveals the rich pleasures and mysteries of experiences without noises or words.
Listening to Silence layers interweaves, connects, filters, composes and decomposes interviews, ambiences and music.
Script by Kate McLoughlin, composition and production by Thorsten Weigelt, including the piece untitled #5 by Christian Kesten"
Expert listeners may recognize:
Last Plane from Tegel and Reversing Pendulum Music by Alberto de Campo, Untitled #5 by Christian Kesten performed by Maulwerker, Berlin Hinterhof Contemplation and Vico Virtual Silence by Kirsten Reese, Berliner Dom before and Berliner Dom after by Thorsten Weigelt, I Went To Archive Silence (12/VI/2020, 04.20) by Sylee Gore, Tape noise from the family archive (Christmas 1961) and Field recording on the rooftop of Akademie der Wissenschaften, Berlin (27.04.2012, 15:35) by Fritz Schlüter.
2 Animal Eyes on the Planet (1/3)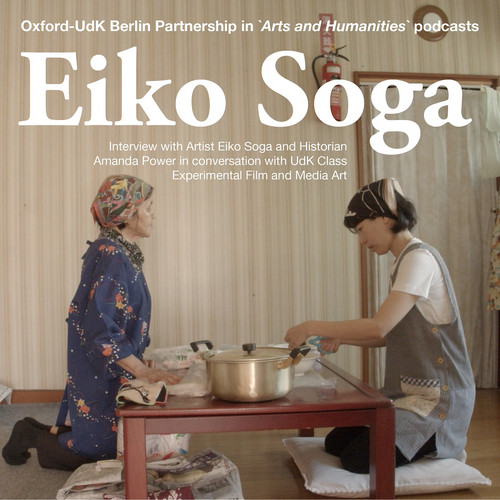 First in a trilogy, this podcast introduces the creative collaboration on Climate Crisis Thinking.
Through Eiko Soga's investigation and artistic work with an indigenous community in Japan called the Ainu, we discover personal dimensions of societal issues, enabling us to explore both thinking and learning through the process of hunting and food preparation.
Listen to part two and three of the three-part podcast 'Animal Eyes on the Planet' on 'Current Situation' - the blog of the UdK Class Experimental Film / Media Art, lead by Prof. Nina Fischer.
1 Behind The Scenes of The Sound of Contagion
The "Sound of Contagion" explores what a society of contagion can sound like and how technology can illuminate 2020 pandemic and others throughout history. The collaboration weaves together world-building, speculative fiction, artificial intelligence, and music to offer strange and thought-provoking answers