Inauguration of the artwork AION by Joachim Sauter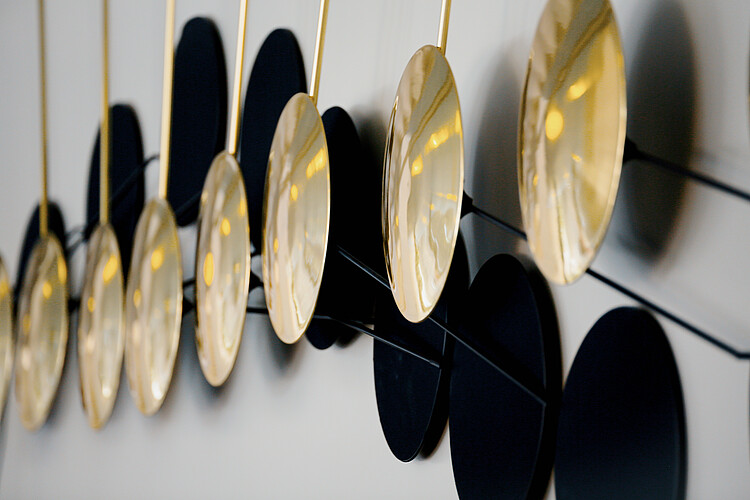 AION - A Work of Art by Joachim Sauter
The endless cyclical motion of the 12 pendulums, bound together with mechatronic bridge with regular phase offset perform silent music in space. The visual references to musical notation, structure and the physics of sound are primed with the materiality of the environment. Timeless and in perpetual motion the artwork is a loud understatement, and the last artwork of the artist.
16.9.2022 in the concert hall of the UdK Berlin
Programme
From 5 p.m. you will see the web-based and participative installation Dear Joachim in the upper foyer of the concert hall. The generative audio installation is a digital archive of condolences for Joachim Sauter and you are also invited to participate with a voice message and listen to the stream via Dear Joachim.
Contributors: Hannes Hoelzl (IT), Dirk Erdmann (DE), Vinzenz Aubry (DE/FR), Ólafur Arnalds (IS), Robert Schnüll (DE), Alberto de Campo (AT), Jussi Ängeslevä (FI), Andi Rueckel (DE), Bruno Gola (BR).
At 6 p.m. Prof. Dr. Norbert Palz, President of the UdK Berlin will welcome the audience in the lower foyer in front of the artwork AION.
Afterwards, at 6:10 p.m., Jussi Ängeslevä, Professor of New Media at the Institute for Transmedia Design at the UdK Berlin will introduce the artwork AION.
At 6:30 p.m. the programme continues in the concert hall with Schönberg audiovisuell: about the story of a rediscovered video work by Joachim Sauter from 1985 (Ephememorion, piano performance by Mattia Aisemberg).
Concept & realisation of the artwork: Zihern Lee, Robin Woern; performer: Mattia Aisemberg; hardware: "KeySense" by Benjamin Maus
From 7 p.m. we invite you to come together over a glass of sparkling wine and enjoy the art work AION .