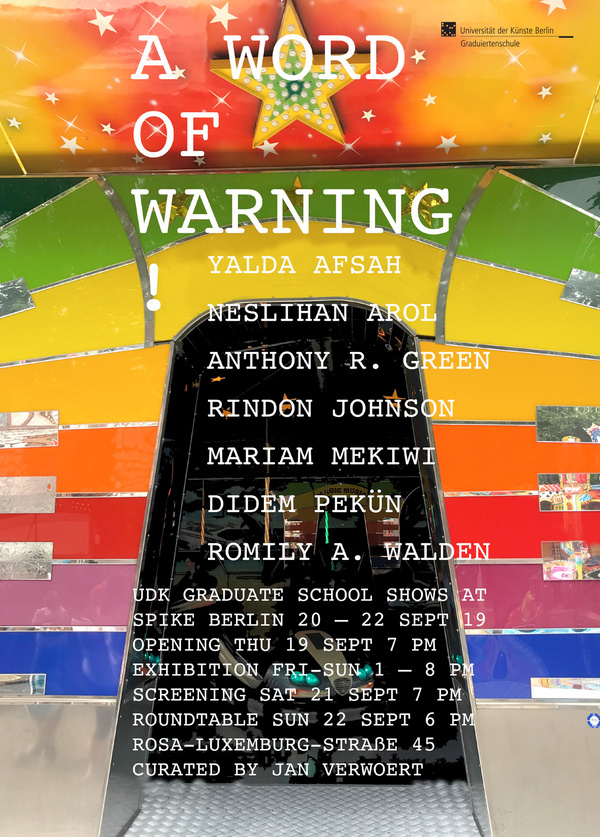 Foto: Graduiertenschule
für deutsche Fassung bitte hier klicken

Dear Ladies and Gentlemen, dear friends of the Graduate School,

This Thursday we celebrate the exhibition opening of "A Word of Warning" at Spike Gallery in Berlin and we would be happy to see you there.

The one world you knew never existed. There's always been more than one, and that one was but a dream. Welcome to realities. Warning: this goes to the core. Note: lots may still happen.
A project with performances, exhibition and talks by the fellows and associates of the Graduate School, Yalda Afsah, Neslihan Arol, Anthony Green, Rindon Johnson, Mariam Mekiwi, Didem Pekün and Romily Alice Walden. Curator of the exhibition is Jan Verwoert. At the same time, it is his farewell from the Graduate School, because Övül Durmuşoğlu takes over his position as visiting professor. She will also present the next Salon für Ästhetische Experimente "Words for Struggle" at HKW.

Besides our upcoming events, we keep you up-to-date with the latest news of our (former) fellows and employees.