Eingeweide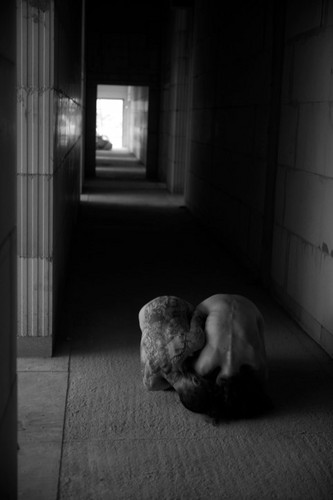 Our former fellow Marco Donnarumma performs in collaboration with Margherita Pevere Eingeweide at the opening night of the group exhibition Beyond Borders at the Center for Contemporary Art Laznia in Poland.
The exhibition focuses on contemporary artistic trends that are related to science, particularly neurology and neural engineering, research on artificial intelligence and robotics, synthetic biology and psychology.
What does it mean to create a truly autonomous machine, independent from human control? And what happens when organs live outside of a body? Perhaps the human body's only real power is to take on ever changing forms and identities.
Eingeweide is the staging of a ritual of coalescence. Inhabiting a desolated, surreal landscape, two human bodies become violently entangled with an artificially intelligent (AI) prosthesis, out-of-body organs, relics from computer server farms and animal remains.
The prosthesis uses AI algorithms to learn in real time how to move, exist and perform on stage. The organs pulsate, leak and crawl on the floor, bearing traces of the microbial cultures which created them. Sounds from the performers' muscular activity are amplified and transformed by AI algorithms into a powerful and visceral auditive experience, submerging the spectators.
When? Where?
18 December 2019, 8pm
CLUB ŻAK

Grunwaldzka str. 195/197

80-266 Gdańsk

Poland