Conference "Competition & Music"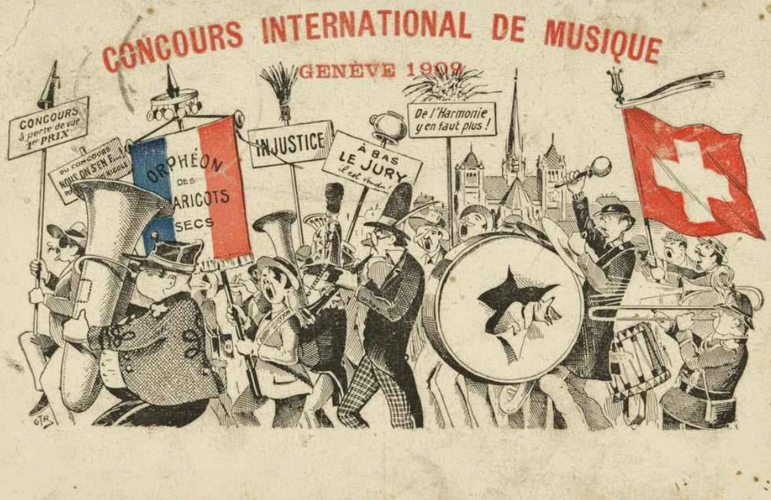 Competition is widespread in the world of music, but it is far from being adequately understood. What is missing in particular is work that brings together conceptual ideas on competition, as discussed in sociology and empirical case studies which are dominant in musicology. This international conference aims to foster an interdisciplinary discussion on music-related competition(s).
Please write an e-mail to c.mueller-oberhaeuser@udk-berlin.de in order to register your participation.
Organising team: Tobias Werron (Bielefeld University), Christoph Müller-Oberhäuser, Laura Barchetti, Klaus Frenzel (Berlin University of the Arts)
Conference programme
Valid as of 28.04.2023
Thursday, 08.06.2023 (UdK, Kammersaal)

14:00

Opening

Welcome address 1: Ariane Jessulat (Vice President of the University)

Welcome address 2: Signe Rotter-Broman (Department of Musicology)

Tobias Werron (Bielefeld University),

Christoph Müller-Oberhäuser (Berlin University of the Arts)

Panel I: General Perspectives

Chair: Tobias Werron (Bielefeld University)

14:30

The End of the Music Competition? Perspectives from Performance Science [Abstract]

George Waddell (Royal College of Music London) [Bio]

15:15

The Chopin Games. How to write a cultural history of a music competition? [Abstract]

Marcin Bogucki (University of Warsaw) [Bio]

16:00

Coffee break

Panel II: Effects of Competition on Music

Chair: Christoph Müller-Oberhäuser (Berlin University of the Arts)

16:30

"Voilà – that's how you fiddle in paradise" – Negotiating competition between nineteenth-century violin virtuosos and its effect on past and present musical practice [Abstract]

Christine Hoppe (Berlin University of the Arts) [Bio]

17:15

"Let us descend and confuse their language" – or how Mauricio Kagel challenges the ARD International Music Competition [Abstract]

Dörte Schmidt (Berlin University of the Arts) [Bio]

19:00

Dinner

Friday, 09.06.2023 (UdK, Kammersaal)

Panel III: Musical Competition in Global Contexts

Chair: Anina Paetzold (University of Amsterdam)

9:30

In Contest: The Competing Values of Dance, Music, and Community Across Breaking Battles [Abstract]

Sherril Dodds (Temple University Philadelphia) [Bio]

10:15

On the Parang Competition on the Caribbean island of Carriacou and the somewhat insensitive or unkind treatment of some Kayaks in the Melee song lyrics [Abstract]

Klaus Näumann (Martin Luther University Halle-Wittenberg)

11:00

Coffee break

Panel IV: Competition in Popular Music

Chair: Thomas MacMillan (Berlin University of the Arts)

11:30

Plugs, plays, and merit: Field-configuring competitions in popular music, 1930s to 1970s [Abstract]

Klaus Nathaus (University of Oslo) [Bio]

12:15

Performing Competition: On the Self-Referentiality of Competition in Glocal Music Talent Shows [Abstract]

Marie-Anne Kohl (University of Bayreuth) [Bio]

13:00

Lunch

Panel V: Competition Problems

Chair: Dörthe Günther (Berlin University of the Arts)

14:30

On the reciprocal relationship between music performance anxiety and flow experience against the backdrop of challenge and perseverance in participants of »Jugend musiziert« [Abstract]

Claudia Bullerjahn (Justus Liebig University Gießen) [Bio]

15:15

Competing for Equality: Understanding the Gender Gap in International Piano Competitions [Abstract]

Marc Law (University of Vermont) [Bio]

16:00

Coffee break

16:30

Round table:

Research Perspectives (Fa 302)

18:00

Panel Discussion:

"Competition in Music – what for?"

Chair:

Lisa McCormick (University of Edinburgh)

Guests:

Lucas Blondeel (Professor, Berlin University of the Arts)

Elisabeth Kozik (Managing Director at ARD International Music Competition Munich)

Sonia Simmenauer (Manager and Impresaria, Berlin)

Shaun Choo (Pianist/Composer, Berlin University of the Arts)

20:15

Dinner

Saturday, 10.06.2023 (UdK, Kammersaal)

Panel VI: Competition and (Inter-)Nationality

Chair: Dorothea Hilzinger (Berlin University of the Arts)

09:30

Unlikely Alliances: International Military Music Competition(s) in the 19th Century [Abstract]

Martin Rempe (University of Konstanz) [Bio]

10:15

'Un-German' Events? – German Choirs and International Choral Competitions in the 19th Century [Abstract]

Christoph Müller-Oberhäuser (Berlin University of the Arts) [Bio]

11:00

Coffee break

Panel VII: Competition(s) and Political Conflicts

Chair: Tobias Werron (Bielefeld University)

11:30

Competition as Cooperation: The Intervision Song Contest and Cold War Europe [Abstract]

Dean Vuletic (University of Vienna) [Bio]

12:15

To ban or not to ban? Performing Solidarity in International Competitions during the Ukraine War [Abstract]

Lisa McCormick (University of Edinburgh) [Bio]

13:00

Closing discussion

14:00

Lunch