studio space production 21 | 01: Spaces of Resilience
In pandemic times, the call for designing spaces that support our resilience and resistance has moved into focus again. What can resilient spaces look like? What do they feel like? Are these spaces public or do we need individual spaces to support our resilience? Where do such spaces already exist in the city, what niches or open spaces can we occupy for this purpose, what (social) connections do we have to make in the process, how can these be created (under the rules of social distancing)? What does resilience actually mean for the individual? How do we resist and against what?
The resilient design of spaces is not only important in the current situation of the global pandemic - but makes its urgency clear once again. But also in the context of other "crises" - whether of an ecological, social or political nature - our resilience will (be) increasingly demanded. And especially for so-called social "marginalised groups", places play a role in which resilience can develop and manifest itself. The joint development and co-production of resilient spaces will therefore be an important task for (future) city makers and architects.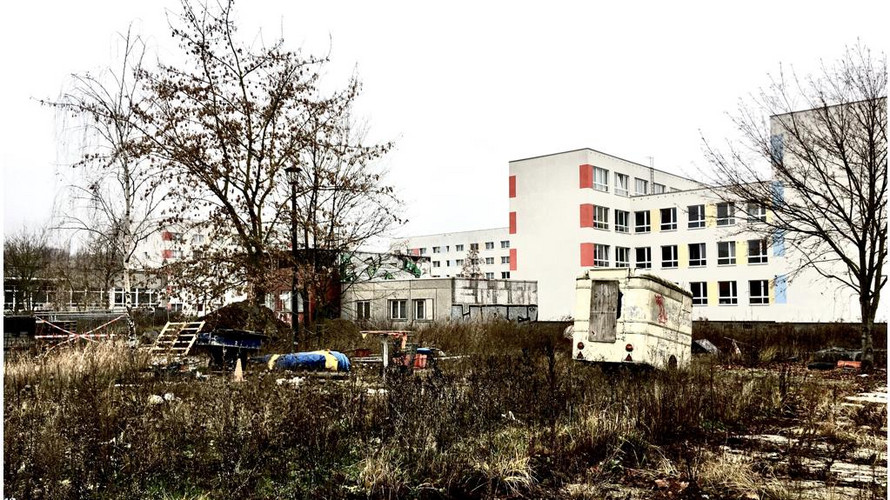 In interaction with the initiative "Stadtwerke Marzahn" (mrzn), which has been run as an "experimental construction site" by the art and cultural institution Schlesische 27 since summer 2020, we will explore how resilience can emerge in the context of migration, marginality, exclusion and beyond in the current context of the Covid-19 pandemic. Stadtwerke mrzn is located at Otto-Rosenberg-Platz, on the eastern edge of the district of Marzahn and not far from its border with the state of Brandenburg. The square is in the centre of an industrial area and is separated from the residential area by a multi-lane road. Also on the square is the Don Bosco Centre, a youth project with a focus on social work and youth welfare. There is also a privately run housing complex for the homeless and the Circus Cabuwazi, which acts as a social hub for children and young people from socially disadvantaged backgrounds. In 2015, an emergency camp for refugees was opened in a former office building, which was converted into a community camp in the course of 2016 and now mainly accommodates families. With a capacity of 900 people, the camp is one of the largest in the district - and in the city.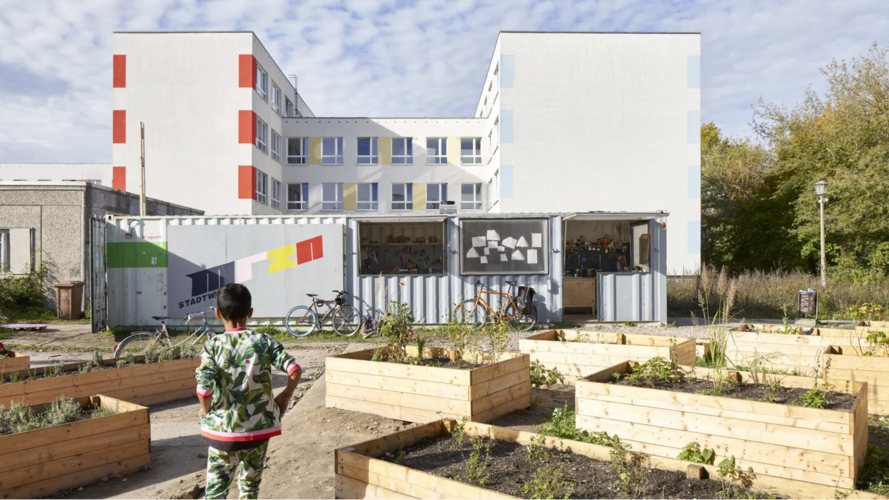 Together with the various actors on site and the makers around the Stadtwerke mrzn, we will get to know and further develop new alliances between urban planning, architecture, art, social movements and bottom-up initiatives during the semester. 'City-making' will be explored from an inside perspective and an understanding of architecture as an instrument for progressive social change will be generated. By means of the (temporary) design of (social) public infrastructures, ideas for resilient spaces will emerge concretely and visions for their longer-term anchoring in the context of current urban development programs will be considered.
The studio takes place within the framework of the international action research project "Designing Inclusion" (DESINC) LIVE: Designing and Learning in the Context of Migration". Experimental teaching and educational formats will be developed, tested and evaluated horizontally together with learners and educatorsof architecture and urban planning, refugees, and civil society initiatives. New perspectives of 'city-making' will be promoted through social awareness and critical thinking and action, exploring issues such as migration, subversion and dissent, power and space, care and ethics, social impact of the built environment and urban practice. The studio is part of an international educational programme and includes virtual formats of shared learning as well as two live workshops in Berlin and Milan (pandemic situation permitting).
>> Application via moodle on Monday, 12.04. until 16h
>> TN max. 12
>> Tuesdays online & offline, first meeting on Tuesday 13.04. 14h
Questions? k.rohde_ @udk-berlin.de
Partner websites:
>> Schlesische 27 / Stadtwerke mrzn
>> Desinc Live (in progess)