Design 2023
Ira Göller und Sophie Pischel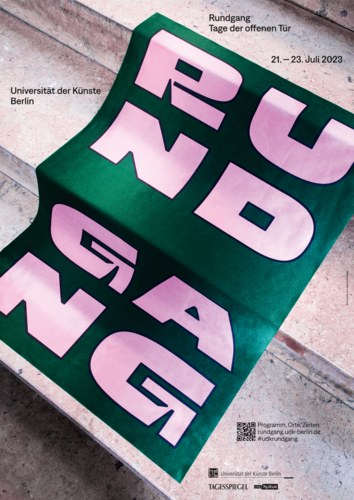 In a photographic series, a flag takes a Rundgang of the UdK's premises, integrating itself into unlike settings. Visitors and members of the UdK are thus invited to visit the various locations and numerous disciplines themselves on the open days.
The Jury of the Rundgang Design Competition
Prof. Dr. Norbert Palz, President of the UdK Berlin
Prof. David Skopec, Professor for Visual Systems at the Institute for transmedia Design at the UdK Berlin
Prof. Barbara Kotte, Professor for Campaigns (and Advertising) at the Institute for transmedia Design at the UdK Berlin
Roman Wilhelm, Head of the Laboratory for Typography at the UdK Berlin
Anne-Marie Franz, Head of Interfaculty Events​​​​​​​ at the UdK Berlin
Claudia Assmann, Head of Press and Communication at the UdK Berlin
Dr. Michaela Conen, Head of Strategic Marketing at the UdK Berlin (represented by Insa Ruckdeschel​​​​​​​, Marketing Manager in the Strategic Marketing Department at the UdK Berlin)
Michael Heimann, co-founder of the design office Heimann + Schwantes
We would like to thank all jury members for contributing their professional expertise to the evaluation and for their always conscientious and unpaid assessment of all applications.