Georg Klein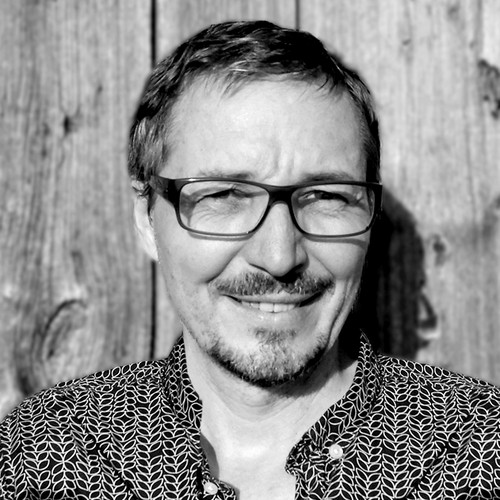 Guest Faculty | Sound Studies and Sonic Arts (M.A.)
Contact through office_ @sounds.berlin
TEL +49 30 3185 - 2482
Lietzenburger Straße 45, 10789 Berlin
With a background in composition, sound artist Georg Klein has developed a multi-faceted artistic practice, in which he works with sound in combination with video, text, objects, or photography. In his instal­lations and interventions – in particular those in public spaces – he intensifies visual, acoustic, situational and political aspects into an area of tension, in which visitors become involved, either on an interactive or participatory basis.
His works has received numerous awards (including the first German Sound Art Prize in 2002) and since 2013 he is member of the Errant Sound project space and since 2018 art director of the DYSTOPIE sound art festival Berlin. For many years he has been teaching in Berlin and given lectures and workshops in Istanbul, Los Angeles, Beijing etc.
Artist website with full project documentations : www.georgklein.de
Errant Sound project space Berlin : https://errantsound.net/
DYSTOPIE sound art festival 2020 : https://www.dystopie-festival.net/2020/?lang=en
CATALOGS
Klein, Georg. Borderlines. German/English, Ed. Sabine Sanio, 2014. https://www.georgklein.de/borderlines.html
TEXTS
Wahrnehmung herausfordern / Challenging Perception Interview by Max Glauner, German.
KUNSTFORUM INTERNATIONAL, 2016, BD. 240: "GET INVOLVED - Participation as Artistic Strategy"
Gratwanderung zwischen Kunst und Politik. SoundArt between Art and Politics. Interview by Stefan Fricke with Georg Klein
German, In: MusikTexte 135, Cologne 2012
Klein, Georg. "Site-Sounds. On Strategies of Sound Art in Public Space." In Organised Sound 14/1. London: Cambridge University Press, 2009.